WELCOME TO WYEDEAN SIXTH FORM CENTRE
Applications
Please contact the Director of Sixth Form, Mr Lane, for information on applications to Wyedean Sixth Form, click lanej@wyedean.gloucs.sch.uk to email. Please click HERE to download the Sixth Form Application Form.
Sixth Form Curriculum Information, 2017 - 2018
Please click HERE to download 2017-2018 Sixth Form curriculum information Please click HERE to access 'The Extended Project Qualification (EPQ)'.
Bursary Information
Please click HERE to download the Bursary Policy September 2017
Please click HERE to download the 16-19 Bursary Fund Application Form 2017-18.
Options Advice
Please click HERE to download Options Advice letter dated 01.12.16
Sixth Form Prospectus
Please click HERE to download the current Sixth Form Prospectus .
Sixth Form News Events
Please click HERE for Sixth Form News and Latest Events.
Wyedean School has a large and thriving Sixth Form and we are happy to accept students who are willing to embrace our ethos. In order to study A Levels and BTECs at Wyedean Sixth Form, students must meet our entry requirements of five A*-C grade GCSEs, including English Language and Maths. Certain subjects have different, specific entry requirements; details of which can be found in the Curriculum Information section. Students will be expected to study four subjects in Year 12, and allocations to subjects are done on a first come, first served basis.
Wyedean Sixth Form Ethos: "Aspire Together, Achieve Together."
Our ethos means that we expect our students to work hard, show independence and participate in the wider life of the school and local community. A key element of what makes Wyedean special is the relationship between staff and students and between the students themselves. We expect students to be tolerant, thoughtful, respectful and well-mannered at all times towards staff and each other. We offer a caring, supportive and positive environment where students can dream fantastic dreams and know that staff will work alongside students to make them a reality.
Our Mission Is To
Inspire and encourage students to 'dream big', enjoy the present and relish their future
Enable students to achieve their goals
Facilitate outstanding results
Stretch and challenge all students
Provide superb care, guidance and support
Offer an enriching experience that generates debate, enquiry and broadens horizons
Create a sense of community and generosity of spirit.
Results
A-level results have been outstanding over the past three years. After analysing our results against students' target grades, and those of other schools, Alps has put our performance in the top 25%, nationally. Even more remarkable is the fact that our results over the past two years put us in the top 10%. This demonstrates that students make superb academic progress at Wyedean regardless of ability.
| | |
| --- | --- |
| Wyedean Sixth Form's A level results | National Average |
| A*- B: 56% | A*- B: 52% |
| A*- C: 82% | A*- C: 77% |
| A*- E: 99.4% | A*-E: 98% |
Stretch and Challenge for All
Our comprehensive ethos means that we are passionate about stretching and challenging all students regardless of ability and background. Some of the ways in which students are encouraged to push themselves include Academic Tutorials, the Extended Project, TEFL courses, the 15/10 Society and links with Oxbridge. Please click HERE to download more information .
Care, Guidance And Support
Wyedean School is well known for its excellent pastoral care and the provision in Sixth Form is no different. Each student will have their own tutor, access to a school nurse and counsellor. We pride ourselves on having warm, friendly and supportive relationships with the students and this encourages a sense of openness and them feeling valued as individuals. No problem or issue is too trivial. Life can be difficult and complicated between the ages of 16 and 18 and we're well aware of the challenges. The students know that the Sixth Form staff doors are open and the kettle always on.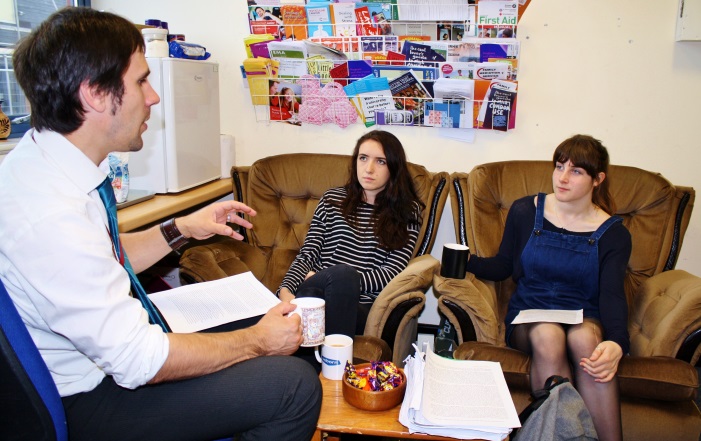 We organise Taster Days and an Induction Week for those who have made an application. This enables students to decide whether the school and subjects choices are right for them. We set Bridging Tasks over the summer holidays so that Year 12 students can 'hit the ground running' with their learning in September. Everyone who applies will receive a guidance interview so that we can support students with making the most appropriate subject choices.
The Team
Mr Johnathan Lane
Director of Sixth Form and Assistant Principal
I have taught at Wyedean since 2005 and have been involved with leading and co-ordinating the Sixth Form since 2007. As Director of Sixth Form, I am responsible for the transition, progress and pastoral care of all those in Years 12 and 13. As well as my role in Key Stage 5 I am also a teacher of History and Politics.
My aim is to make sure that students flourish, enjoy their time in Sixth Form and are looking forward to a life beyond school. Central to this is ensuring that students meet or exceed their academic targets, develop relevant skills and gain valuable experiences for the next stage of their lives. I intend to stretch and challenge our students, intervene when they need more support, and provide extra-curricular opportunities that develop skills and broaden horizons.
Miss Samantha Bishop
Assistant Director of Sixth Form
I began teaching at Wyedean School in 2013 and have had experience in developing and supporting the Sixth Form since 2015. As well as my role within Sixth Form I am an experienced teacher of Design and Technology, specialising in Product Design. As Assistant Director of Sixth Form, my main responsibilities include supporting the Director of Sixth Form in the development of quality pastoral and PSHEE provision and interventions across Year 12 and 13. In my role, I aim to build on the 'community feel' of the Sixth Form by encouraging active involvement within the school and locality. I believe fostering creativity and collaboration within the cohort through the form of leadership groups to be a valuable experience. Providing enriching experiences through the tutorial programme will provide an insight into employability skills and will prepare students for life after Sixth Form.
Mrs Maureen Stephens
Sixth Form Academic Mentor
stephensm@wyedean.gloucs.sch.uk
I started at Wyedean in December 2014 after a long career at Gloucestershire College, based at the Forest of Dean Campus.
My role is to support the students in Years 12 and 13 to ensure they develop the necessary independent study skills to enable them to achieve their goals and progress to the next stage of their lives, whether this is to university or into employment.
The key aspects of my role are to monitor students' progress in each of their subjects, so that they stay on track and achieve the best grades they can; to offer help with study and revision skills and to monitor attendance and punctuality, to ensure students are taking full advantage of the opportunities available to them.
An Enriching Experience: Enrichment Programme
We have a wide range of extra-curricular groups on offer through our Enrichment programme. The programme runs on a Wednesday afternoon and groups are run by teachers, outside volunteers and the students themselves.
These groups provide students with the opportunity to develop existing interests or to try something completely new. The extra-curricular groups include: the Student Newspaper Team, International Team, Events Team, Amnesty International, Charity, Wider School Community, Mentoring, Art, Fashion and Design, Drama, Music and Dance, Sport, Students' Campaigns, Environment and Sustainability.
Partnership with University of Wales, Cardiff
We have recently established a partnership with University of Wales, Cardiff. The link means that our Sixth Form students will have access to bespoke HE days, subject-specific Taster Days and 'Masterclass' sessions on particular courses. These opportunities will be of immense value to our students in their quest to improve their education and move on to the next stage of their lives.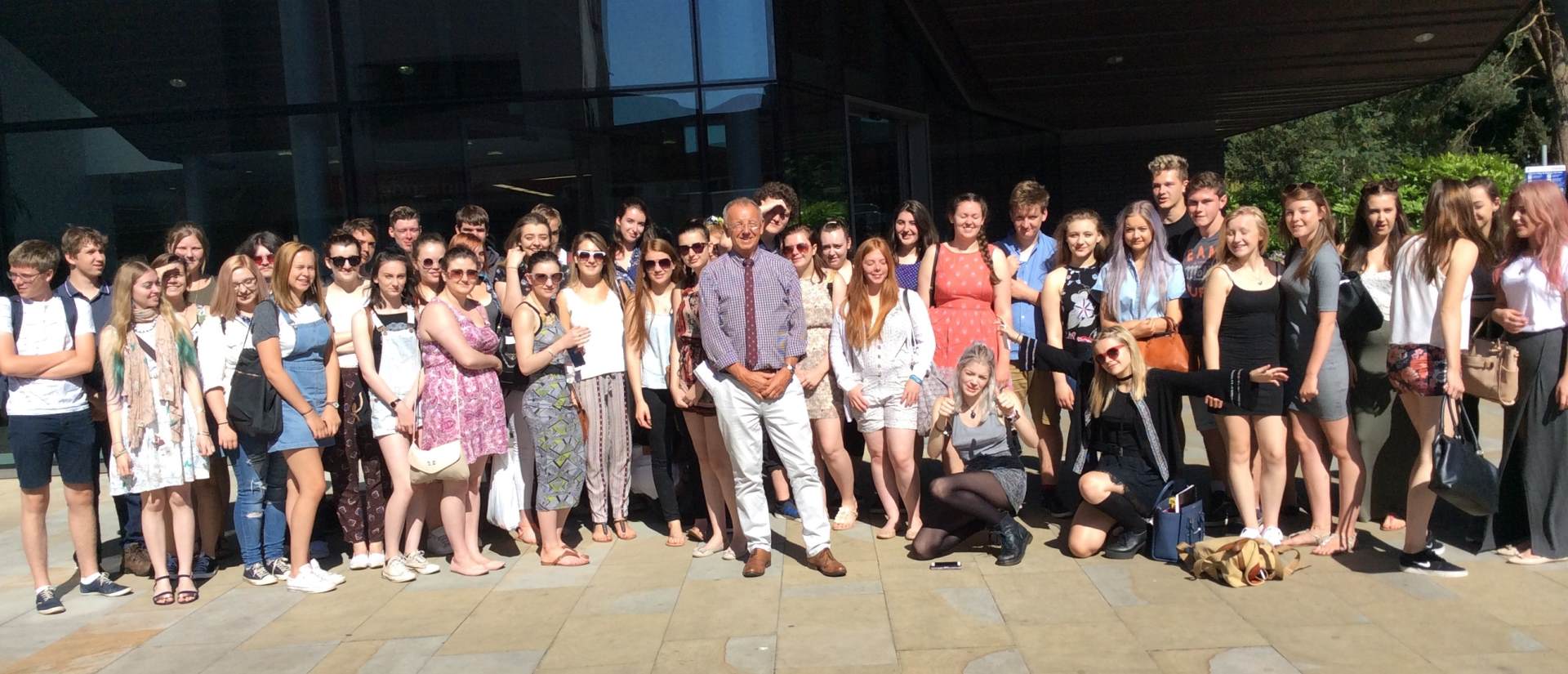 Lecture Series
Every fortnight we organise a presentation from an outside speaker to inspire our students and get them thinking. Lectures recently have involved talks on law, advertising, apprenticeships, and most notably of all, from Baroness Royall, as part of the Peers in Schools programme.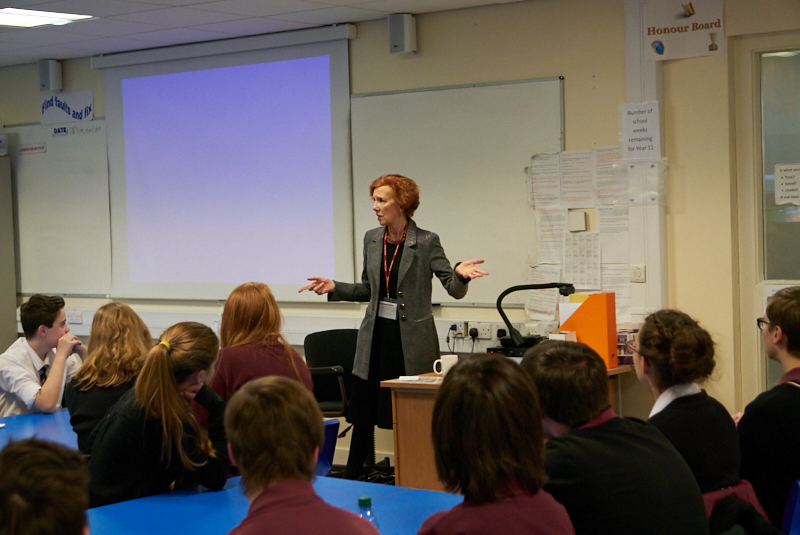 Trip To Aushwitz-Birkenau
We feel strongly that this trip should be made available to all, not just to History and RS students. We run the trip biannually and stay in the cultural jewel of Poland: Krakow. We use the city as a base to experience Polish culture, its Jewish heritage and, most hard-hitting of all, Auschwitz-Birkenau concentration camp.
Thought For The Day
Each Wednesday our students are given a moral or ethical question to ponder and debate within their tutor group. It's important that students don't just focus on their narrow studies but instead think of themselves as citizens and to engage with the latest developments.
Tutorial Programme
Our tutorial programme consists of an hour's study every Tuesday morning. The sessions are designed to prepare students for the next stage of their lives but also to encourage a sense of debate and enquiry. This year we've run sessions on free speech, whether social media is generating a new misogyny and the factors that lead to extremism and radicalisation.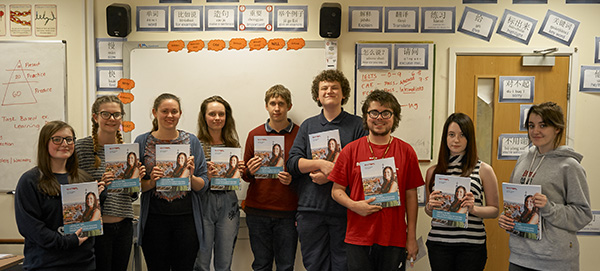 Sense of Community and Generosity of Spirit
Our students, with support from staff, organise a number of charitable events and voluntary schemes; events that 'give something back' to our community and fosters a generosity of spirit within the school. Examples of which includes:
Donations to Bristol Children's Hospital
Mentoring Key Stage 3 & 4 students
Volunteering at Penguins Nursery
Volunteering at Offa's Mead Primary School
Shoe Box Appeal
Useful Websites