Cyber news
USW Female Aspiration Event
On Wednesday 1st May 2019 the top three teams from the NCSC CyberFirst Competition were invited to a very special NCSC Cyber School Hub Female Aspirational Programme at the University of South Wales. The students were treated to three outstanding workshops in Cyber. Workshop 1 was a capture the flag activity and using the command line interface students searched through a Virtual Machine to find the hidden Pokémon. Workshop 2 focused on students following the trail of cryptographic clues to unlock a puzzle and release a prize. Workshop 3 involved students getting suited into investigation kits and working as a team to walk through a complete a digital crime scene scenario. The students were a credit to Wyedean School and it was very clear that they learnt a great deal and discovered some of the future possibilities of Cyber.
Article links:
CyberFirst Girls Competition 2019
The CyberFirst Girls Competition launched at Wyedean School on the 21st of January 2019 and run for a week. A total of 84 female students took part in the competition with the aim of gaining cyber skills, solving problems and having fun with friends. At Wyedean School we wanted to show that there are equal opportunites in Cyber Security
Article links:
Cyber News BAE Systems January 2019
Dan Heaton- Artificial Intelligence Q and A Session
On 21st December Dan, an ex-student, returned to Wyedean to hold a Q and A session with Year 12 Computer Science students. It was very inspiring to learn about his journey into this field, possible career paths in AI and reinforcement learning and to hearing about his Masters in AI at the Imperial College. A fantastic opportunity for students for which we are very grateful, what a very motivational way to end the term.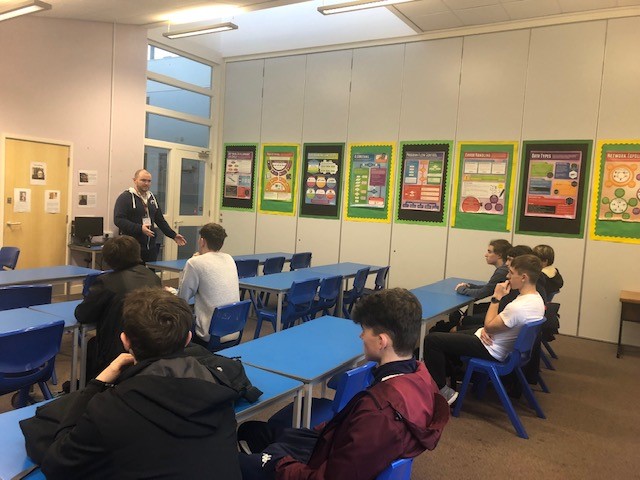 Student Reflections
"It was very educational to learn about machine learning and what it is like at Imperial College London studying a Masters. It was very intriguing to learn how much Maths is involved in machine learning and what reinforcement learning is. Furthermore, learning about the possible career paths was very helpful to me. I would like to thank Dan for answering questions and speaking to us about his experiences. Very inspiring"
Kara
"Thanks to Dan for showing us a different area of Computer Science and talking about artificial intelligence and his pathway into the subject. It helped me understand his university courses and the money involved, which was inspiring."
Cam Williams
"It was extremely interesting to hear exactly what it is like for a student studying Computer Science and AI. Similarly, Dan opened my eyes into the career path that is software design. It was most definitely an amazing insight into the professional side of the subject I love."
Tom Carter
"I would like to thank Dan for coming in and giving me a great insight into his career in Computer Science. It has helped me see that there are a lot more fields in Computer Science that I find very interesting."
George Harvey
"I would like to thank Dan for coming in to give us an insight into his pathways into machine learning and the many possibility of careers both during and after University. I had not considered looking into machine learning and AI, but I am now very intrigues by its possibilities in the future."
Jacob
"Thank you for the insight into possible pathways to work with machine learning and AI, it was very useful to me as I want to go into the same field."
Jake
"Thank you for passing on this useful knowledge. It has helped me decide my future. I wish you all the best in getting your dream job in machine learning."
Ewan
"I really appreciate the talk you gave. I didn't realise how much AI has developed. I think we can both agree that the future of AI looks prosperous. I will consider looking into building my own AI robot in my free time to demonstrate my abilities to future employers."
Nat
On 12th November our A-level Computer Science students were invited to Warrington to visit the Fujitsu Security Operations Centre (SOC). The trip was amazing, students learnt about the overarching business and the cyber security aims of Fujitsu. They experienced a first-hand tour of the SOC, learnt about passive threat assessment and cyber threat intelligence. They were introduced to social engineering and discovered the apprenticeship and graduate schemes available at Fujitsu.
The trip really helped inspire and motivate our students. It has created a passion for them to learn more about Cyber Security and opened their eyes to future possibilities in this field.
We are extremely thankful for this opportunity provided by Fujitsu and for allowing us to connect education to industry, bringing learning to life!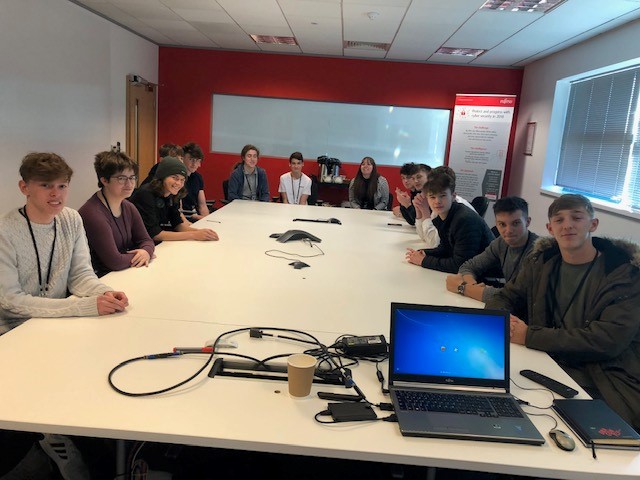 Here are the student's reflection comments to fully demonstrate the impact of the visit.
"I was extremely lucky to be given the opportunity to visit Fujitsu, the largest IT producer in Japan. I was given the opportunity to see the Security Operations Centre (SOC); which was incredible. I was also lucky enough to be given a presentation on Social Engineering, their research into the Dark Web and the apprentice graduate schemes.
The Security Operations Centre was amazing to see and even more amazing to understand. The part which most captured my eye was the determination and ethos of the environment. Everyone was extremely friendly and appeared to enjoy their job. Even more incredible I was given a tour of the SOC, where the roles and the amount of work that they do blew my mind. The fact that they are able to combat a threat within a short amount of time was fascinating. This talk really opened my eyes into the corporate side to cyber security, which in turn has made me even more inclined to pursue a career in cyber.
The presentation on Social Engineering was scary and fascinating at the same time. Learning the little details either a malicious sender or even a large company may use in order to entice you into purchasing the product or giving away personal details. This talk was very educational and opened my eyes into the manipulation tactics that malicious senders may use.
The presentation into their research of the Dark web was prodigious and the scale and details that Fujitsu went into was incredible. Learning how the majority of people use the dark web and the types of people who may use it. Overall it was without a doubt educational and awesome to learn about.
The apprentice and graduate schemes offered by Fujitsu were extremely important and fascinating for me, given how close I am to finishing school. Overall this has definitely educated me and presented more options to pursue after school.
I must say, once again 'thank you' to all who participated and gave me the opportunity to be educated by a huge and fascinating company. Overall this trip gave me an insight into the corporate side to cyber security and quite frankly blew my mind. This trip has only grown my desire into pursuing a career in cyber security. Thank you, Fujitsu."
Thomas Carter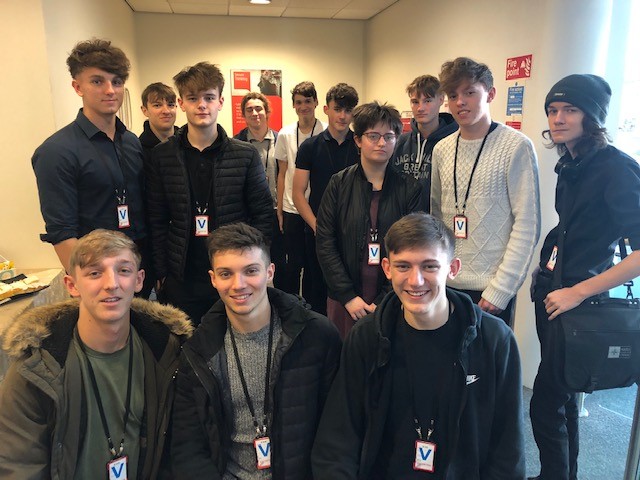 "Thank you for allowing us to come to your facility in Warrington, it shown us a great example of how a commercial Security Operation Centre is run and different strategies they employ to mitigate attacks, along with different ways an attacker may take advantage of various vulnerabilities and weaknesses. The trip also reminded me of how important Cyber security is to the country."
Nate Hughes
"I would like to say thank you to the staff of Fujitsu in Warrington who facilitated our visit to their cyber-security headquarters. It was a very informative experience and was thoroughly enjoyable. Every staff member we spoke to was clearly very knowledgeable in their respective fields and was very friendly and helpful when answering our questions.
I had never fully considered the psychological aspects of cyber security until this visit and was very enthused to learn about the use of Social Engineering in both attacks and defences in the cyber world. It was also very interesting to see another live, working SOC in person and to meet those working there. Thank you again for this informative experience"
Jacob Gittings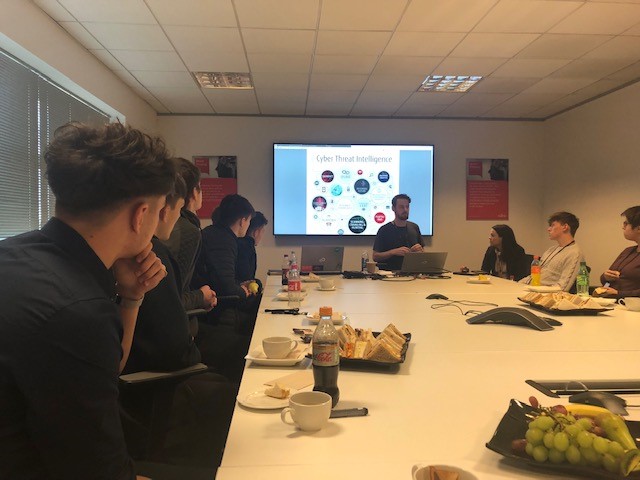 "Thank you to all those at Fujitsu who took time out of their day to speak to us about what they do in the SOC. I learnt that there's a lot in more in cyber security than I thought, and that security today is really important. The talk on Social Engineering showed me how much data is out there and is open source for anyone to collate together and use it. It has definitely shown me how many different careers there are in and around Computer science and cyber security and will help me on deciding future career paths."
Cameron Williams
"Thank you! Having this opportunity to visit Fujitsu was amazing. It helped me to understand how the business works and helped me expand my knowledge. On this trip it allowed me to see what industry I want to go into and has motivated me to work harder to achieve a career in cyber security. It was a very educational trip and I had lots of fun. Thank you very much."
Shay Wearden
deep3
Please click HERE to read the interview between the Wyedean Student Panel and Richard Yorke Co-founder and CEO of deep3
Cyber Security Associates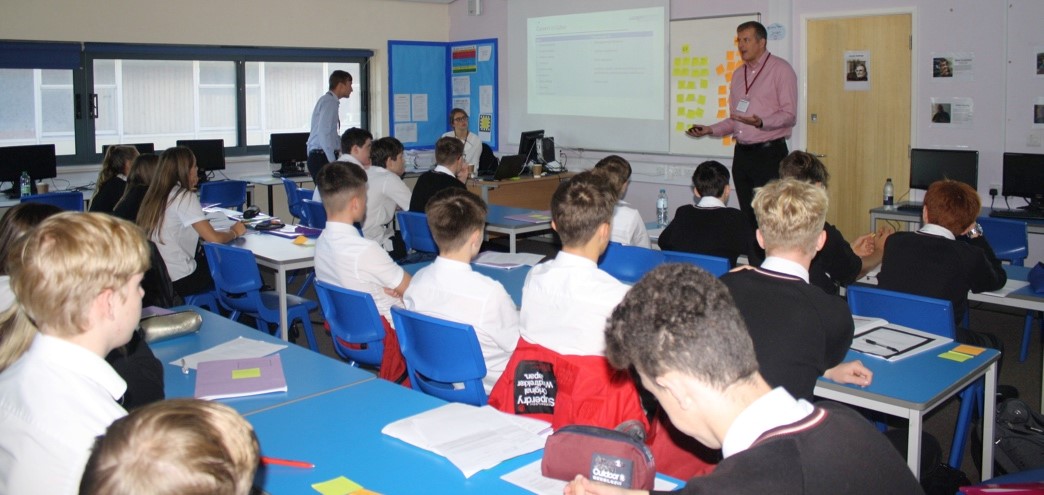 On 25th September 2018, the Computer Science students at Wyedean School had a very special talk from Cyber Security Associates. The talk was delivered by David Woodfine (Director), Madeline Howard (Business Development) and William Edwards (Junior Analyst) and provided an insight into Cyber Security and Cyber Careers.
It was lovely for students to hear from experts in the 'Cyber World' and to have their eyes opened to new perspectives, which are often omitted from regular classroom teaching. The talk was truly fascinating and inspiring for our students. They have been motivated to learn more about cyber careers and have been given an insight into what the future could hold if they work hard and stay motivated to achieve their best.
We are extremely grateful to CSA for providing this opportunity.
Here are some of the students' reflective comments.
Miss Williams
Student Reflections
"It was fascinating to hear about the different routes into cyber in the CSA talk. I was struck by how much they love their work and I'm even more motivated now for my Computing lessons."
Max Year 7
"The talk by CSA (Cyber Security Associates) was inspirational to say the least. It was eye opening and an insight into the possible career paths within cyber security. I personally, feel extremely lucky and grateful to CSA giving up their time to inspire my peers and myself.
What I learnt: Firstly, what CSA do and what they hope to achieve within the coming months. CSA explained that they want to help small businesses to stay secure from cyber security threats. They explained that they wished to do this, as "by 2020 there will be over 50Bn online connections". Thus the importance of security for privacy.
Secondly, I learnt some of the possible ways to get into Cyber. CSA explained that it is not necessary to go to University in order to achieve a job in cyber, as long as you are passionate enough to strive towards that end goal. Thirdly, CSA inspired us to immerse ourselves within the world of cyber, to go to conventions and to speak to professionals.
By far my favourite part of the CSA talk was the inspiration they motivated from me to achieve the best I can. CSA did this by inspiring me to immerse myself within the world of cyber, which I am definitely going to do - immediately. They educated us by explaining the importance of work experience and relevant hobbies and interests. As David, a founder of CSA, explained he desires his workforce to be head strong, but also having a personality is a key component to working a cyber-security job.
Overall, I feel extremely lucky to have had the experience I did today. I must say thank you to everyone who made it possible for this educational and inspirational talk to take place. Thank you CSA."
Thomas Year 12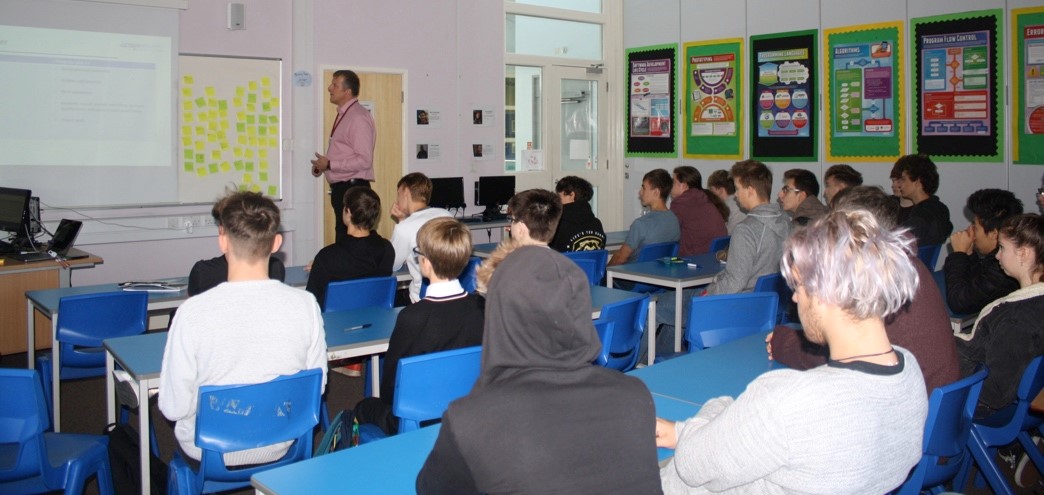 "Thank you for the Cyber Security talk. It was very intriguing to learn about cyber career paths and how to get a job in cyber-security. I loved learning about what to put on a CV and what it is like to have a cyber-security job. The talk has definitely made me consider my future career in cyber"
Kara Year 12
"I really appreciated the talk you provided at Wyedean School. I have taken away that employees seek applicants with experience outside of the classroom and so I have recently begun actively looking for way to extend my cyber experience. Thank you very much."
Nat Year 12
"Dear David, Madeline and William,
Thank you so much for giving up your time to educate myself and the class on your business and all of your experiences .I really appreciate your time and effort and it has really inspired me for the future possibilities in cyber careers"
Maximus Year 10
"I would like to thank you for you giving up your time to come and educate us about your job and cyber security, it was really helpful to know how to get into cyber security and the different career paths it is possible to take. It was interesting and inspiring to hear about your choices and what you do. From what you described a job in cyber careers is really cool and is a definite option for me going forward. "Thank You."
Ben Year 10
"After David's speech, I personally feel more motivated about learning new things about this topic and generally about Computer Science. Also, it feels important to understand how things work and be able to use them in the correct way. I was intrigued by the cyber security and will look into it a bit more."
Jock Year 10
"Dear CSA, I would like to say a big thank you for coming in for the talk. It has given me a huge insight into what I could do in the future. It has also encouraged me to look into cyber jobs in more depth and consider how I can extend my skills and experience."
George Year 12
"After David's speech I feel really motivated to continue learning about Computer Science. I am not sure about my future, but it is reassuring that I could take this path. I was particularly captivated by the Cyber Security Analyst, because of his speech and will be looking into it a bit more. Thank you David, Madeline and Will."
Gabriele Year 10
"Thank you for the insight into the world of Cyber Security. I am still unsure about what sector of Computer Science I want to go into so it was very useful to see what is on offer and I am so grateful for the talks and the advice."
Jake Year 12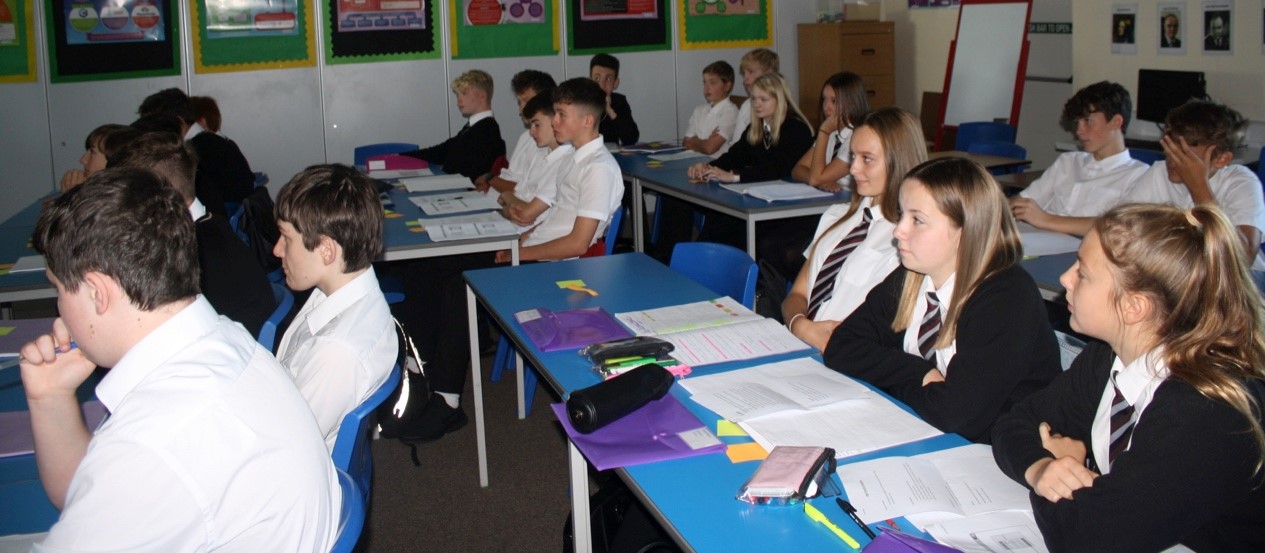 "I would like to say a massive thank you to David for coming in and talking to us. When I asked you my question about Oxford/Cambridge University and what you think would be better in the future, it really gave me an idea of how I should structure my timings of going into university and then become involved in some spy work. Thank you!"
Alesha Year 10
"Thank you David, Madeline and Will for your incredible talks! Thanks to you I have learnt that you can take any route to work in Cyber Security and that the job is high demand and high skill, so it is a smart job to know about for the future."
Jacob Year 10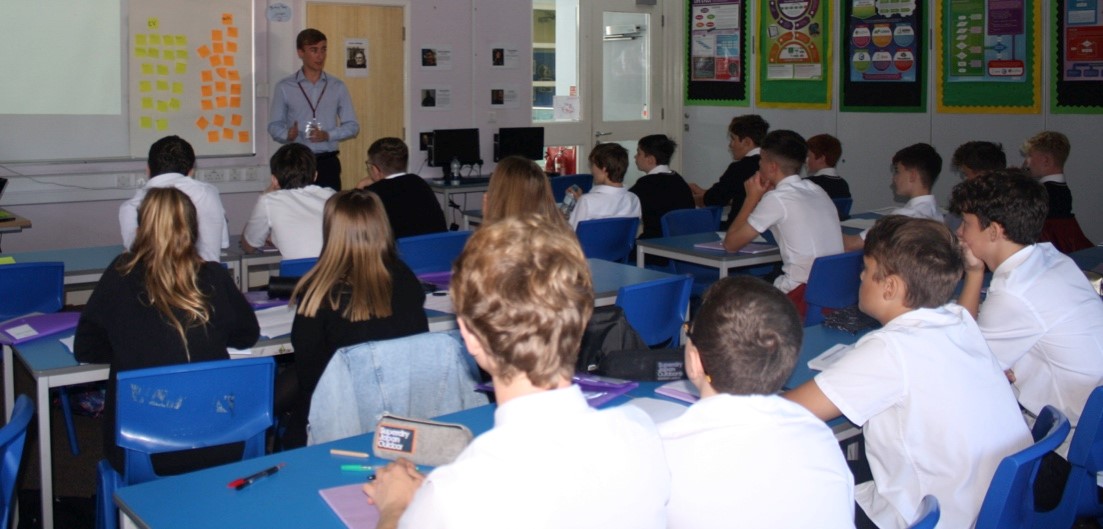 "I would like to thank David and others for the interesting talk. It was nice to hear the paths they have taken in cyber security; the thing I have taken away from the talk is, the amount of options to get into cyber security/computer science jobs."
Anna Year 10
"I would personally like to thank David and his team for the very informative talk on their business. From this talk, I have taken away a more clear understanding of the jobs in the cyber world and how to achieve the one I would like. I also learnt that there are many different ways of achieving them and you don't always have to do A Levels and go to University for hopefully my future job in the cyber world/computer science."
Keira Year 10
"Thanks for coming in David and team. The talk you and your co-workers did really gave me a lot of information about careers, and significantly helped me decide what I want to do when I am older. I knew I wanted to do computing stuff, but was not sure the exact job. Thanks again"
Charlie Year 10
Bank of England in London
On 12th September 2018, students in both Year 12 and Year 13 were invited to vi
sit the Bank of England in London. The visit provided an insight into Cyber Security at the Bank and demonstrated how they protect against security threats. As part of the visit students were shown the Bank's Security Operations Centre (SOC) and they learnt how the SOC team detect and protect the Bank from cyber threats in real-time. This was truly fascinating and inspiring for our students. In addition as part of the visit students taught the Bank employees about robots and programming. This allowed students to demonstrate their knowledge in Computer Science and also develop their leadership skills.
It was amazing for the students to witness first-hand the skills and dedication that goes into protecting our financial infrastructure in the UK. We are extremely grateful to the Bank for providing this opportunity to our students. Here are some of the students' reflective comments.
"I would like to take this opportunity to thank all the staff who gave their time in order to educate me on the extremely important and interesting work they all do. It was amazing for me to witness first hand; how these individuals give their time and effort in order to protecting our financial infrastructure. Also the incredible people I spoke to who are an inspiration to me, proving that it's possible to truly do something you absolutely love doing.
The incredible insight the Bank of England team showed me was immense, these are some of the things I learned:
Firstly, I learned all about the SOC (Security Operations Centre). I learned that this incredibly talented and dedicated team of individuals dedicate their time and life to creating a safe and secure financial system; where they combat threats from both domestic and international hacker groups. It was truly an inspiration to witness how they worked.
Secondly, I learned all about the importance of a strong passwords. I knew that a strong password was a smart idea; however I had no idea how many combinations a password cracker really tried. It put things into perspective for me and showed me why it really is important to have a strong password.
Thirdly, I learned about how Trojans can be embedded into an email and precisely how much control the 'hacker' has over your computer or android device. It showed me exactly how important it is to be very wary about unknown emails. The best part of the presentation was being shown how the Security Analyst team got access to someone's webcam and also their keystrokes and screen. This was both really interesting; and extremely educational and eye opening.
The Bank of England trip was nothing short of amazing and inspirational; but I believe the thing that was most prominent to me was how much people loved working there and loved their jobs; and all were very proficient at them. Similarly, the talks I was lucky enough to be a part of, helped me understand what cyber security is all about; and helped me connect the dots between what I learn in school and what is happening in reality. Furthermore, in conclusion I must say, once again thank you, to everyone who participated in order to give me the best, most educational experience possible."
Tom Carter (Age 16)
"I would like to take this time to thank the employees of the Bank of England, especially the SOC, for an engaging view into the world of cyber-security at a high-level institution. It was very interesting to learn about both the activities and community of cyber-security specialists and how important the human element is in the defence against cyber-attacks. The experience of teaching some employees was also insightful into the role of leadership and confidence."
Jacob Gittings (Age 16)
"Overall it was extremely fascinating and enjoyable. The incredibly detailed and interesting chat I had with one of the BoE's Cyber Analysts was quite easily the best bit. Talking to him provided me new ideas, viewpoints and made me reconsider my weaknesses, such as a lack of coding experience, especially in languages other than python. The SOC talk was interesting and well explained where we experienced examples of cyber-attacks. The presentation given on password protection, while basic, was still relevant and useful. I would like to thank the Bank employees for the warm welcome; the trip was very memorable and enjoyable."
Oscar C (Age 17)
"Hearing from experts about the use of computer science in the security of the Bank was insightful and encouraging with respect to learning and developing our own skills in the sector. My mind has been set on Computer Science for over a year and this experience has helped to consolidate my plans for the future. I am especially thankful for how welcoming and friendly the members of staff were throughout the day and when we were teaching them how to use the robots as we ended up learning more than they did."
Jake Andrews (Age 16)

"I would like to say thank you to all of the employees at the Bank of England for allowing me to get an idea of what goes on behind the scenes. The experience was great and has me intrigued about cyber security. I really enjoyed teaching the members of staff and also enjoyed our tour of the building and our talk on SOC and Cyber Security, I also thought the gold bar was impressive and so was the work ethic of the employees."
George Harvey (Age 16)
"Thank you to the Bank for showing us the Security Operations Centre and giving us insight into the real world of Cyber Security. It helped to further my knowledge about Computer Science in the real world and will help in the future to choose a career path in the area of Computer Science. Also thank you to Debbie and David for letting us teach them some block coding and for talking to us about their job and role in the Bank of England."
Cam Williams (Age 16)
RCCU Event 28.06.18
As part of the NCSC Cyber School Hub, the Computer Science students at Wyedean School had a very special event run by the Regional Cyber Crime Unit. This event provided many learning opportunities for our students and provided invaluable information about Cybercrimes and preventions.
Student Feedback and Reflection
"Thank you for educating me on the consequences of Cyber Crimes. T
he scenarios made me more aware of the implications and dangers. I feel I can protect myself in the future and use my gained coding abilities to help and support others".
Jazmine Preece Year 10
"I was really inspired by the event and want to now follow a career in coding and cyber prevention
. It expertly demonstrated both the dangers of ethical and non-ethical hacking, but also the potential to do good in this world. The visitors weren't intimidating and never shamed us based on our answers. They were all very friendly and inspiring!"
Dylan Hughes Year 10
"The opportunity allowed me to fully consider the implications of Cyber Crimes and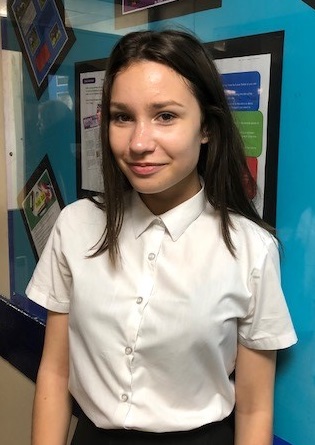 Preventions. In the future I will aspire to use my coding skills to the full advantage".
Bethany Rodgers Year 10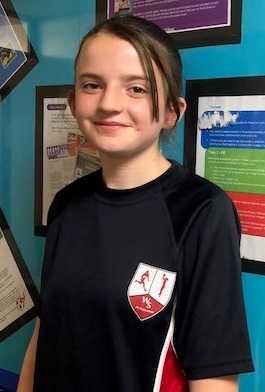 "I learnt how I need to be careful when using hacking material for illegal use. I would like to thank the team for coming in to talk to us and educating us on how to stay safe and use coding skills in productive ways. It will benefit my future and I would like to learn how hack ethically!
Rosenwyn Rees Year 9
"I would like to take this opportunity to thank the cyber police for coming in, it helped me
really understand how to protect myself. In the future I would like protect others from Cyber Crimes and I am really inspired to work in Cyber Security".
Callum Tucker Year 9
"I learnt how to be more careful when it comes to simple hacks and why it's so dangerous to
hack into personal documents. I also learnt how to keep my personal information safe from the outside world. I would like to say thank you for the experience, to learn about the dangers of hacking and how to try to
prevent it in the future".
Izzy Sands Year 10
"The RCCU event taught me how to protect myself online while still doing what I enjoy. Thanks Computer Dudes- please don't bash my doors down! J
Luke Connor Year 10
"The talk from the RCCU allowed me to really have an insight into potential cyber jobs and how easy it is to be hacked in this day and age. I know how to protect myself now and use my coding skills for good."
FInnley McNeil Year 10
Bank of England Cyber Workshop 20.06.18
On the 20th June 2018, the students from Wyedean School were fortunate to benefit from a fantastic learning experience by undertaking a workshop in Cyber Security. The visiting team managed to share their knowledge and passion for the industry to over 100 excited and engaged students.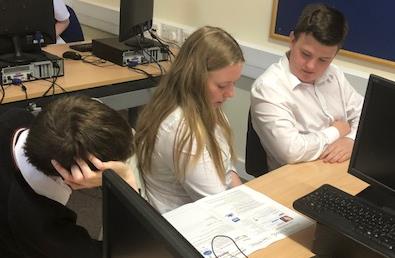 Student Feedback and Reflections
"I would like to take this opportunity to say thank you for visiting and teaching us about the Bank of England and Cyber Security. I now understand the internal workings of Cyber Security at the Bank and the Cyber threats. I found it really interesting to learn about phishing scams. The workshop has allowed me to consider future careers in this field".
Williams Curtis Year 12
"I'd like to thank the visitors that joined us to educate us about their roles in the Bank of England. Before the session I didn't really know what roles were needed in Cyber Security and the implication to the Bank. I am now really interested in this area and would like to consider it as a future career"
Erin Smith Year 10
"The workshop helped us understand what Cyber Security is and how it is so important within the Bank of England. We now understand how to protect ourselves from phishing scams. The talk helped us consider possible careers in Computing and has given us the passion to learn more about this exciting field"
Logan Arendell and Sam Williams Year 10
"The workshop allowed me to learn about the Cyber Security side of the Bank of England. I found this very interesting as I didn't realise how much dedication went into making clients' data and money safe in a bank. In the future I would like to become a business owner and so to understand the Cyber Security side is paramount".
Izzy Sands Year 10
"The talk with the Bank of England was really helpful, because I have an interest in Cyber Security and want to go into this in the future. From this talk, I now have an understanding of how important it is to have safe and secure systems to support all businesses."
Jairus Dunscombe Year 10

Wyedean School Dragons' Den Event 13.06.18
Event Details and Desired Outcomes
The Dragons' Den Event was held at Wyedean School and Sixth form Centre on the 13th June 2018 as part of the NCSC Cyber Schools Hub. The key aims were to:
Allow students to research the possibilities of Computer /Cyber Technology
Develop student skills and confidence to present to a real audience
Discover what was captivating/inspiring students' towards the subject and to understand what could be developed into the curriculum to meet students' needs
Students were asked to independently research and prepare a presentation which would be pitched to a panel of experts in the industry. The brief students were provided with was to pitch for kits that could be implemented into school - the kit must inspire students of any age into the subject of Computer Science/Cyber. They were all looking for an investment of a fictional £10,000. The majority of the pitches came from year 9 students (age 13-14) and year 12 student (age 16-17) who had selected /are studying GCSE or A level Computer Science, however, there were several teams that we constructed of non Computing students, so that we could understand what would inspire all students into the subject in the future.
We were fortunate to gain a judging panel of experts in the industry, which consisted of:
Rebekka Bishop –Northrop Grumman
Madeline Howard- C.S.A Limited
Richard York-Deep3
Samantha Bonnes-Cheltenham Festivals
Student Feedback and Reflections
"I have always been inspired by Computer Science and this experience has allowed me to share my interests with the key leaders in this industry. I would like to take this opportunity to thank each Dragon for visiting and fully challenging my way of thinking. It has opened my eyes to the wonders of this industry and I can't wait for what the future holds."Will Coleman (Year 9)
Team Frontline VR -Investment into VR Equipment and Computers to Upcycle
To present to the Dragons' was an excellent opportunity to demonstrate and practice my love of the field of Robotics, presenting to the Dragons' was intimidating but I believe it has allowed me to sharpen the skills that are necessary in the job market." Jake Jones (Year 12)
Team Next Generation- Investment into Robotics, Ethical Hacking and programming games in C++.
"I really enjoyed presenting to all of the Dragons'. The questions offered by the Dragons'
pushed me and challenged me to relate how our kits could be applied to real world applications. The chance to research elements of computing really has inspired me to think about the future and my career.
It was a wonderful experience provided from people in the industry, who really knew what they were talking about."Ryan McBride (Year 9)
Team Turn Table- Investment into Robotic kits
"Thank you to all the Dragon's who visited from the Cyber Industry. I enjoyed presenting my ideas and explaining what I think would inspire the next generation.
The whole experience has opened my eyes to future opportunities in this industry." Max Cleverly (Year 9)
Team Devol Tech- Investment into Drones
"I found the whole experience very scary, however, I am now so proud of my achievements.
To present to such inspiring people in the industry has been quite exciting and overwhelming. What I will take away from this experience is to always be confident in my abilities and to put myself forwards for things. Thank you for challenging me." Bethany (Year 9)
Team Terminator Ultimate- Investment into Robotics
"I would like to thank all Dragons' for visiting and being so open minded and helpful with our pitches. The questions asked were thought-provoking and allowed me to fully consider how the idea could be developed further and applied to a real context.
The experience was eye opening and it was a pleasure to be able to present a personal love of mine to such high standing people in the industry. The whole idea behind the 'Dragons' set up' was ingenious, to get more students excited about computing and highlight the benefits of learning more about the subject." Matthew Griffiths (Year 12)
Investments into high spec computers and 3D Unity
"To present to the Dragons was a worrying experience at first. When Miss Williams first
approached me with the ideas I was quite intimated as I do not take Computer Science and had no real experience with the subject. However, now I am looking forward to developing my skills further and challenging myself to learn how to programme. I cannot wait to help the primary school students and students of my age to learn a new skills and experience Computer Science." Jade Armstrong (Year 13)
Team Future is Female- Investment into MacBook's and Swift Education