Cyber news
RCCU Event 28.06.18
As part of the NCSC Cyber School Hub, the Computer Science students at Wyedean School had a very special event run by the Regional Cyber Crime Unit. This event provided many learning opportunities for our students and provided invaluable information about Cybercrimes and preventions.
Student Feedback and Reflection
"Thank you for educating me on the consequences of Cyber Crimes. T
he scenarios made me more aware of the implications and dangers. I feel I can protect myself in the future and use my gained coding abilities to help and support others".
Jazmine Preece Year 10
"I was really inspired by the event and want to now follow a career in coding and cyber prevention
. It expertly demonstrated both the dangers of ethical and non-ethical hacking, but also the potential to do good in this world. The visitors weren't intimidating and never shamed us based on our answers. They were all very friendly and inspiring!"
Dylan Hughes Year 10
"The opportunity allowed me to fully consider the implications of Cyber Crimes and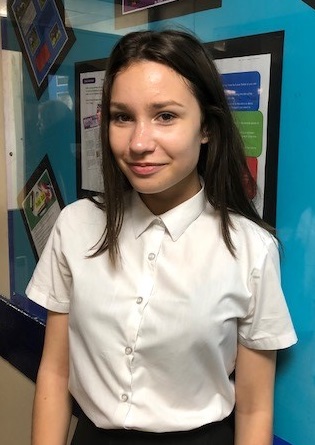 Preventions. In the future I will aspire to use my coding skills to the full advantage".
Bethany Rodgers Year 10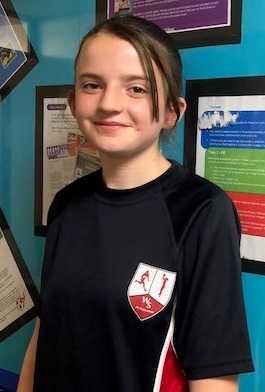 "I learnt how I need to be careful when using hacking material for illegal use. I would like to thank the team for coming in to talk to us and educating us on how to stay safe and use coding skills in productive ways. It will benefit my future and I would like to learn how hack ethically!
Rosenwyn Rees Year 9
"I would like to take this opportunity to thank the cyber police for coming in, it helped me
really understand how to protect myself. In the future I would like protect others from Cyber Crimes and I am really inspired to work in Cyber Security".
Callum Tucker Year 9
"I learnt how to be more careful when it comes to simple hacks and why it's so dangerous to
hack into personal documents. I also learnt how to keep my personal information safe from the outside world. I would like to say thank you for the experience, to learn about the dangers of hacking and how to try to
prevent it in the future".
Izzy Sands Year 10
"The RCCU event taught me how to protect myself online while still doing what I enjoy. Thanks Computer Dudes- please don't bash my doors down! J
Luke Connor Year 10
"The talk from the RCCU allowed me to really have an insight into potential cyber jobs and how easy it is to be hacked in this day and age. I know how to protect myself now and use my coding skills for good."
FInnley McNeil Year 10
Bank of England Cyber Workshop 20.06.18
On the 20th June 2018, the students from Wyedean School were fortunate to benefit from a fantastic learning experience by undertaking a workshop in Cyber Security. The visiting team managed to share their knowledge and passion for the industry to over 100 excited and engaged students.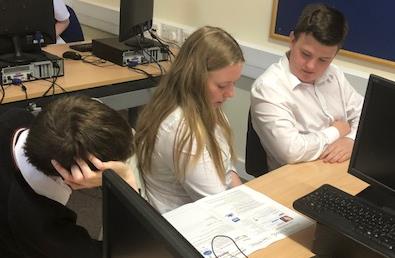 Student Feedback and Reflections
"I would like to take this opportunity to say thank you for visiting and teaching us about the Bank of England and Cyber Security. I now understand the internal workings of Cyber Security at the Bank and the Cyber threats. I found it really interesting to learn about phishing scams. The workshop has allowed me to consider future careers in this field".
Williams Curtis Year 12
"I'd like to thank the visitors that joined us to educate us about their roles in the Bank of England. Before the session I didn't really know what roles were needed in Cyber Security and the implication to the Bank. I am now really interested in this area and would like to consider it as a future career"
Erin Smith Year 10
"The workshop helped us understand what Cyber Security is and how it is so important within the Bank of England. We now understand how to protect ourselves from phishing scams. The talk helped us consider possible careers in Computing and has given us the passion to learn more about this exciting field"
Logan Arendell and Sam Williams Year 10
"The workshop allowed me to learn about the Cyber Security side of the Bank of England. I found this very interesting as I didn't realise how much dedication went into making clients' data and money safe in a bank. In the future I would like to become a business owner and so to understand the Cyber Security side is paramount".
Izzy Sands Year 10
"The talk with the Bank of England was really helpful, because I have an interest in Cyber Security and want to go into this in the future. From this talk, I now have an understanding of how important it is to have safe and secure systems to support all businesses."
Jairus Dunscombe Year 10

Wyedean School Dragons' Den Event 13.06.18
Event Details and Desired Outcomes
The Dragons' Den Event was held at Wyedean School and Sixth form Centre on the 13th June 2018 as part of the NCSC Cyber Schools Hub. The key aims were to:
Allow students to research the possibilities of Computer /Cyber Technology
Develop student skills and confidence to present to a real audience
Discover what was captivating/inspiring students' towards the subject and to understand what could be developed into the curriculum to meet students' needs
Students were asked to independently research and prepare a presentation which would be pitched to a panel of experts in the industry. The brief students were provided with was to pitch for kits that could be implemented into school - the kit must inspire students of any age into the subject of Computer Science/Cyber. They were all looking for an investment of a fictional £10,000. The majority of the pitches came from year 9 students (age 13-14) and year 12 student (age 16-17) who had selected /are studying GCSE or A level Computer Science, however, there were several teams that we constructed of non Computing students, so that we could understand what would inspire all students into the subject in the future.
We were fortunate to gain a judging panel of experts in the industry, which consisted of:
Rebekka Bishop –Northrop Grumman
Madeline Howard- C.S.A Limited
Richard York-Deep3
Samantha Bonnes-Cheltenham Festivals
Student Feedback and Reflections
"I have always been inspired by Computer Science and this experience has allowed me to share my interests with the key leaders in this industry. I would like to take this opportunity to thank each Dragon for visiting and fully challenging my way of thinking. It has opened my eyes to the wonders of this industry and I can't wait for what the future holds."Will Coleman (Year 9)
Team Frontline VR -Investment into VR Equipment and Computers to Upcycle
To present to the Dragons' was an excellent opportunity to demonstrate and practice my love of the field of Robotics, presenting to the Dragons' was intimidating but I believe it has allowed me to sharpen the skills that are necessary in the job market." Jake Jones (Year 12)
Team Next Generation- Investment into Robotics, Ethical Hacking and programming games in C++.
"I really enjoyed presenting to all of the Dragons'. The questions offered by the Dragons'
pushed me and challenged me to relate how our kits could be applied to real world applications. The chance to research elements of computing really has inspired me to think about the future and my career.
It was a wonderful experience provided from people in the industry, who really knew what they were talking about."Ryan McBride (Year 9)
Team Turn Table- Investment into Robotic kits
"Thank you to all the Dragon's who visited from the Cyber Industry. I enjoyed presenting my ideas and explaining what I think would inspire the next generation.
The whole experience has opened my eyes to future opportunities in this industry." Max Cleverly (Year 9)
Team Devol Tech- Investment into Drones
"I found the whole experience very scary, however, I am now so proud of my achievements.
To present to such inspiring people in the industry has been quite exciting and overwhelming. What I will take away from this experience is to always be confident in my abilities and to put myself forwards for things. Thank you for challenging me." Bethany (Year 9)
Team Terminator Ultimate- Investment into Robotics
"I would like to thank all Dragons' for visiting and being so open minded and helpful with our pitches. The questions asked were thought-provoking and allowed me to fully consider how the idea could be developed further and applied to a real context.
The experience was eye opening and it was a pleasure to be able to present a personal love of mine to such high standing people in the industry. The whole idea behind the 'Dragons' set up' was ingenious, to get more students excited about computing and highlight the benefits of learning more about the subject." Matthew Griffiths (Year 12)
Investments into high spec computers and 3D Unity
"To present to the Dragons was a worrying experience at first. When Miss Williams first
approached me with the ideas I was quite intimated as I do not take Computer Science and had no real experience with the subject. However, now I am looking forward to developing my skills further and challenging myself to learn how to programme. I cannot wait to help the primary school students and students of my age to learn a new skills and experience Computer Science." Jade Armstrong (Year 13)
Team Future is Female- Investment into MacBook's and Swift Education