Food and Nutrition
Statements of Intent:
Why do we eat food? ... Just as a power station requires gas or coal to power its turbines and generate energy, so we need fuel – in the form of food– to power our continued existence. The foods we eat provide us with a range of nutrients: vitamins, minerals, water, fat, carbohydrates, fibre, and protein. Choices helps us maintain a healthy weight, is essential in human physical development and helps combat illness and disease. A good diet is also important for concentration and mental health and wellbeing. Feeding ourselves on a budget is an essential 'life-skill', as is the importance of minimising food waste. Food production and distribution is vital to our economy. A commitment to food science and technology is advancing the science of food, ensuring a safe and abundant food supply of locally sourced ingredients for a growing population.
Our overarching concepts for Food and Nutrition are:
Self-sufficiency and independence - Feeding oneself
Food safety and safe working practices – Risk assessment, food hygiene, temperature and safe storage
Healthy living and nutrition – Maintaining a healthy weight, food labelling, food allergies.
A balanced diet – Meal planning and food choices
Preventing food waste
Feeding a family – Cooking for others
Budgeting – Costing recipes
Knowing where our food comes from, food sourcing and food distribution – Food miles, food processing, sourcing local ingredients, seasonal foods
Familiarisation with a range of ingredients
Our Statement Hospitality
According to the British Hospitality Association, hospitality and catering is Britain's fourth largest industry and accounts for around 10% of the total workforce. Since 2010, over 25% of all new jobs have been within the hospitality and catering sector with the majority of new roles falling within the 18-24 age groups. The ability to plan, prepare and present food is an essential skill within the hospitality and catering industry. Our Hospitality and Catering qualification equips learners with theoretical knowledge about the industry as well as enabling them to develop practical skills in planning, preparing and cooking a variety of dishes.
The national curriculum for Food and Nutrition aims to ensure that all students:
understand and apply the principles of nutrition and health
cook a repertoire of predominantly savoury dishes so that they are able to feed themselves and others a healthy and varied diet
become competent in a range of cooking techniques [for example, selecting and preparing ingredients; using utensils and electrical equipment; applying heat in different ways; using awareness of taste, texture and smell to decide how to season dishes and combine ingredients; adapting and using their own recipes]
understand the source, seasonality and characteristics of a broad range of ingredients
Our students:
Across their lessons our students will be learning practical skills and theory of functions of ingredients, science of foods, food safety, science, choices and food provenance.
Students will create a variety of savoury recipes with some sweet treats.
Key Stage 3
At Key Stage 3, Food is taught within Design & Technology (D&T). Aspects of food, health and diet are covered as part of students' Personal, Social, Heath and Economic Education (PSHEE). Food and Nutrition is a very exciting, creative and interesting subject to learn.
Year 7
Plus seasonal
Year 8
Plus seasonal
Year 9
Plus seasonal
Extras
Key Stage 4
At Key Stage 4 we are currently offering two courses, please read below for further details.
WJEC Hospitality and Catering Level 1 and 2
Hospitality and Catering Level 1 and 2 is a theory and practical based subject. It is broken down into two units.
Unit 1 is an external examination completed at the end of Year 10 and studies the following;
LO1 Understand the environment in which Hospitality and Catering operates
LO2 Understand how Hospitality and Catering provisions operate
LO3 Understand how Hospitality and Catering provision meets Health and Safety requirements
LO4 Know how food can cause ill health
Unit 2 -Hospitality and Catering in Action is a theory and practical based assessment. Students will be studying the importance of nutrients in our diets, planning and making their dishes for the assessment and evaluating in detail afterwards.
GCSE Food, Preparation and Nutrition
AQA Food, Preparation and Nutrition is a new course for September 2019. This course is a mixture of food technology and science. The course is 50% course work now called NEA (Non-Exam Assessment) and is broken down into 2 sections. At the end of Year 11 there is a written exam which is the final 50% of the course and is testing the students knowledge of the following topics;
Topic 1- Practical skills
Topic 2- Food, Nutrition and Health
Topic 3- Food Science
Topic 4- Food Safety
Topic 5- Food Choice
Topic 6- Food provenance
NEA 1- Food Investigation 15%
The topics are released a topic around 1st September of Year 11
You will carry out a range of experiments based on a theme e.g. bread or pastry
Written report 1500-2000 words.
NEA 2 Food Preparation Assessment 35%
Topics are released on the 1st November
Cook 3-4 initial dishes and an accompanying research and evaluation folder
You will produce 3 other dishes in a three hour exam slot
Portfolio produced on the computer (20 x A4/ 10 x A3)
Below are examples of the quality of the dishes, using a variety of different skills and presentation techniques.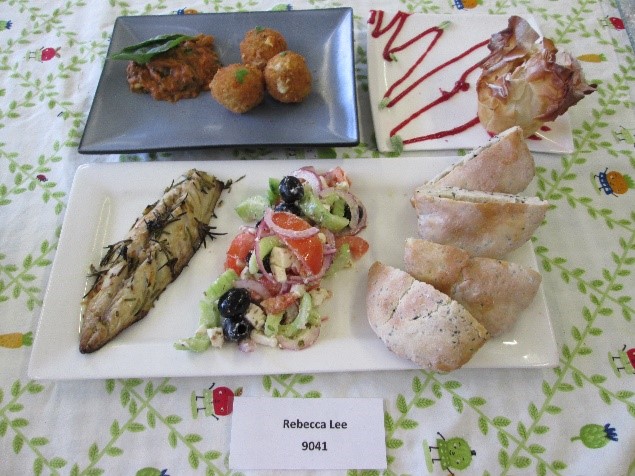 Final Exam 50%
The exam will be based on the course content and skills
Key Stage 5
BTEC Level 3 Technical Level in Food and Beverage Supervision
This qualification is for you if you want to enter a career within the hospitality industry in a front- of -house role, particularly if you wish to progress into a senior role managing front of house staff and its operations.
The qualification consists of three external examinations and assignments. See below for the breakdown of the units.
Unit 1- Exploring Gastronomy
Unit 2- Supervision of Safety in Hospitality- Exam
Unit 3- Leadership and Supervision in Hospitality – Exam
Unit 4- Principles of Food and Beverage Service Supervision- Exam
Unit 5- Food and Beverage Business Operations
Unit 6- Restaurant Reception Supervision
Unit 7- Planning and Delivering Hospitality Events
As part of the qualification students will work shifts in the café for experience in a hospitality environment, building their confidence, knowledge and customer service skills which link to their units above.
The Big Bean Café
The Big Bean is located in the Sixth Form common room and run by our Level 3 apprentice Kieran and KS5 students. It is open daily for use of Sixth Form students, staff and visitors.
This is a great experience for students to learn hands on about the Hospitality catering, the learning also links to their course and examination.
As part of their course pupils will gain Level 2 Hygiene and Safety certificate.
Further Study and Careers
Catering courses
Food technologist
Product development
Food safety
Food research and sciences
Nutrition
Food manufacturing
Chef
Head waiter
Maitre d' or host/hostess
Restaurant supervisor
Bar supervisor
As well as many other food related careers
Partnership Working
Our subject is very relevant one and we therefore constantly look for opportunities to link with the outside world.
We have links with Yeo Valley, Riverford, Soil Association, Vegware, Celtic Manor, University of South Wales, and Newport Gwent Dragons.
We work hard to build and retain strong links with our local and wider community. This involves working with the community with our Kitchen Gardens, and Rocket Digester. We offer Farm visits have external speakers from Industry. We hold a number of food festivals at events such the Creativity Fayre.
Teachers on the team have moderated and examined for various examination boards which enables the team to give our GCSE and A-level students the best possible preparation for their exams and coursework.