Adult Learning at WYEDEAN
Welcome by Aruna Mills - Community Co-ordinator
Now summer is almost here, why not come along to an Adult Community Learning course and see how it can all enhance your life and set you up for a fabulous New Year!
Under the Wyedean Adult Education programme, we offer a broad range of very affordable courses. You will come away enriched and more confident, having developed skills and knowledge in a relaxed and supportive atmosphere. Have a browse through the courses available. With such a choice, there is sure to be one to suit you, whether in the evening or during the day or taking place at Wyedean School or in a community venue in Lydney, Woolaston, Forest Hills, Westbury, or St Briavels. Come along and enjoy the sheer pleasure of doing something that fulfils you.
Wyedean Adult and Community Learning Summer 2018
Adult Community Learning Opportunities for you
Why not come along to an Adult Education class and stretch your horizons? Wyedean School offers a fantastic choice of courses – in community venues as well, and you can learn a new skill or rediscover a hobby, always in friendly, relaxed surroundings with enthusiastic tutors and students.
There are some new offers, such as Latin for Beginners; Good Relationships – a Toolkit; Dementia Awareness; Understanding Old Deeds + Documents; Landscape Archaeology; Crochet … as well as the usual popular courses such as Yoga; French; Spanish; Clothes Making; Golf and more..
There are numerous courses available from the Summer Term. To view the next set of courses please click HERE.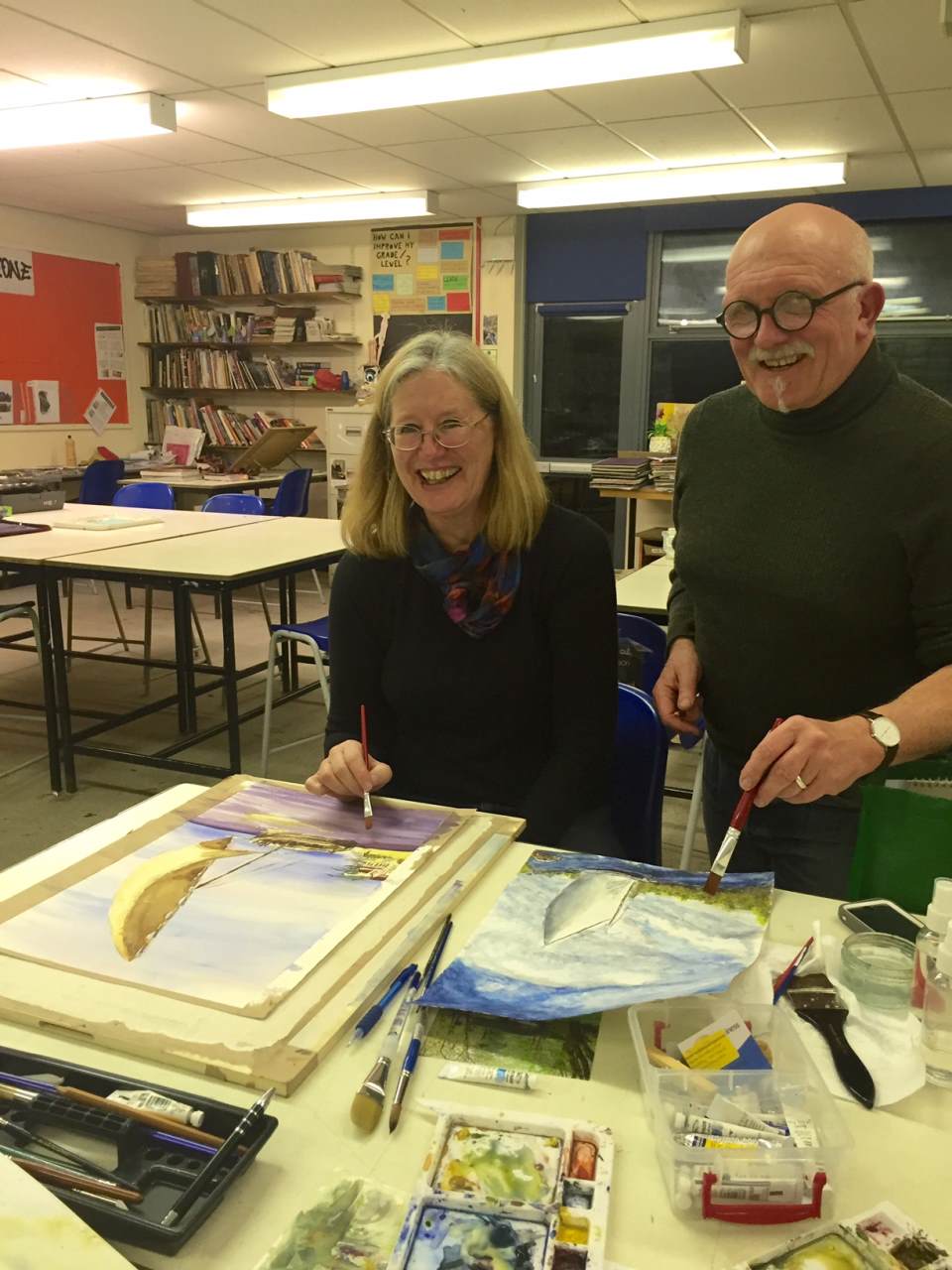 Summer Term 2018 courses
Look forward to some exciting courses to enhance your life: Landscape Archaeology; Latin; Crochet; Welcome in the Springtime - Flower Arranging for Beginners; Make your own Mosaic Tiles; Make the most of your Ipad; Drawing for all; Dementia Awareness; Good Relationships – A toolkit; Boost + Support your Mental Health; Computer Skills – the Essential Introduction.
Do you want to develop the feel-good factor? Discover this on Well Being through Mindfulness; Yoga; Pilates; Golf Coaching or Zumba. Or even on Painting with Watercolours.
Learning a new language is just so beneficial – stretches the brain and widens horizons. Choose from Italian, French or Spanish.
Is it time to bring out that sewing machine and make a stunning outfit for yourself, or even energise your home with beautiful new soft furnishings? On the Clothes Making, Alterations & Soft Furnishing course, you will get every assistance to help you complete your projects beautifully.
How about enriching your CV and professional prospects? Level 2 Food Hygiene; along with Basic First Aid are on offer.
Plus, there are further great courses to choose from: Watercolours; Silver Jewellery Making; eBay.
There are many more on offer. Browse the Brochure – don't miss out!
Join our happy and satisfied band of Wyedean learners.
Students have rated their experience extremely highly. For instance, on the recent
Italian classes the feedback was so very positive "The atmosphere set by Rossella made learning easy and fun and gave everyone confidence to join in." "I have learnt so much. The way it is taught involves us all so we all feel very much a group."
Another student really appreciated "a real Spanish teacher to ensure correct pronunciation."
A student on Reiki 2 thought that the tutor "Annie is amazing. I feel blessed to have met such a person and group at this time in my life."
A student on the Clothes Making, Alterations + Soft Furnishing course really enjoyed "Learning new skills, the social side of it – meeting and making friends, exchanging ideas with others. The tutor was great."
On the Archaeology course this student was "Impressed by the
incredible knowledge of the lecturer plus the hands-on bit where we examined archaeological artefacts." Another loved the tutor's enthusiasm for the subject and his depth of knowledge.
On the Painting with Watercolours course a student stated "Instructor stretches us, she has an easy manner and is encouraging, creative and challenging. A real pleasure!"
People were very impressed by the progress and artefacts they had made in such a short time "Exciting to learn new skills and was thrilled to make a silver ring in my very first week!"
This student on the Wellbeing through Mindfulness course found that "This course has helped me to deal much better with anxiety and stress. I also have learned to take time to concentrate on myself and how I am feeling, and not let things bother me so much." And on the Yoga course, a student loved "Everything! Yoga has helped me relax and it has been lovely to meet new people".
Overall, the relaxed atmosphere in classes was flagged up – the friendliness of the group making people feel at ease; how much fun it was to learn; appreciation of the knowledge of the teachers.
Courses available
Click HERE to download the Summer 2018 brochure.
How do I enrol?
By completing and returning an Enrolment Form (with course fee) to: Adult Enrolments, Wyedean School, Beachley Road, Sedbury, Chepstow, Gloucestershire. NP16 7AA (Cheques to be made payable to 'Wyedean School'). If enrolling by post, please write your email address clearly or enclose a SAE (stamped addressed envelope) for the return of your confirmation of a place on the course. NOTE: Payment to be made by cash or cheque, only.
How do I get an Enrolment Form?
Download an enrolment form from the brochure on this website or via the link to Enrolment Form 2018- photocopies are acceptable.
Print and photocopies of enrolment forms are acceptable.
Pick up a brochure - the enrolment form is at the back.
Telephone: 01291 625340/636180.
In person - Wyedean School Reception (7:30am - 4pm, term time).
At the first class, subject to places being available.
Extra Costs
Please note that in some classes, for example, beauty, arts and crafts, you will incur extra costs for materials - e. g., depends on the amount of silver used in the silver jewellery class.
Your Health - your responsibility
If in doubt about the state of your health and fitness before undertaking a course, particularly Yoga, Fitness classes, Pilates, Dance, etc - please consult your GP. In addition, inform your tutor at the start of the class or let us know beforehand.
Course Viability
We need a minimum number of students to ensure that a class is viable. In order to be flexible, we will consult you and come up with a solution as we know that you are disappointed when a class has to close. For instance, you pay the full cost of the course, but the number of weeks is reduced by one or two depending of the class size.
Refunds
We will issue a full refund in the event that a class is cancelled by us. If you opt out of a class once you have paid, we do not normally issue a refund. In reasonable circumstances, however, we will issue a refund, less an administration fee of £5.00.

Extra help needed? Please let us know if you need any additional support, such as access, or large print etc.
School Closure
In the event of adverse weather, such as snow, floods, please check the school website or Gloucestershire County Council website and listen to local radio.
Please contact us at:
Wyedean School and Sixth Form Centre, Beachley Road, Sedbury, Gloucestershire. NP16 7AA.
Telephone: 01291 625340 (answerphone at times).
Office Opening Times: 7:30am - 4pm (term time only).
Enrolments Office: Telephone 01291 625340 (answerphone at times, leave a message).
Community Coordinator: Aruna Mills. Telephone 01291 625340 ext. 217 or millsa@wyedean.gloucs.sch.uk (term-time only).