teaching and learning guest Blogs
Please click HERE to read the latest Teaching and Learning blogs.
How to nurture students' motivation to read: perspectives, reflections and recommendations
Please click HERE to read the pdf version of Julie Smith's blog on How to nurture students' motivation to read: perspectives, reflections and recommendations posted 28.11.17
https://chartered.college/how-to-nurture-students-motivation-read-reflections-recommendations
On the importance of group culture, co-operation and mutual support
I have taught English in secondary schools for twenty years, and I can't remember any other period of curriculum change as rapid as the one we are currently experiencing. Although many of the changes are to be welcomed, in terms of workload, the demands of teaching new exam specifications cannot be underestimated. Clearly, it is not only those working in my sector and subject specialism who feel this way; according to a recent survey by the NUT, of more than 3,000 teachers aged 35 and under who responded to the union's survey, only 55 per cent said they planned to stay in the profession for more than five years.
While working in this context, how can we ensure that the morale of our teaching staff remains high? Improving staff morale is a complex undertaking, but the potential consequences of low staff morale in a school environment should not be ignored. In addition to the responsibility workplaces have for staff wellbeing, studies on staff morale, school climate and educational productivity suggest that high levels of morale can have a positive effect on student attitudes and on learning itself. Teacher satisfaction in our work is particularly important in comparison to other professions: we are role models for the students that we teach.
Five years ago, I learnt a great deal from conducting my own piece of research into staff morale in my workplace. At Wyedean, we continue to strive for systemic ways in which we can help our teachers feel more supported. These include returning teachers' sense of professionalism; we ensure that there is time to hone subject-specific knowledge, and to engage in pedagogical debate. Specifically, this has meant focussing whole-staff teaching and learning briefings on pedagogy rather than on admin and notices. The provision of professional reading during this time is key, and so far, we have used this time to explode popular educational neuro-myths, and to explore the threshold concepts in our subjects. Any opportunity to discuss the concepts our students find difficult with fellow subject-specialists, and consider ways to teach these more effectively is invaluable, particularly in the light of new exam specifications.
Research-based lesson study triads are proving to be a popular form of CPD at our school, and the rigour of this process means we can more easily evaluate the impact of what we do in the classroom. Members of staff choose the focus of their CPD based on their own development needs and interests, including whether they work in subject-specific or cross-curricular groups. In these ways, we are abandoning policies and practices that do not deliver the needs and aspirations of the school, its staff and its learners: we believe senior leaders should add value, not burden, and in creating a school culture that is not one of competition, but of a group culture, built of co-operation and mutual support. Through these initiatives, we are empowered to do what we do best: helping our students to learn.
https://staffrm.io/@wyedeancpd/ifUu2za2jX
Julie Smith 12.07.17
Creating opportunities for stretch and challenge
As part of my gained time last summer, I was tasked with creating a unit to provide stretch and challenge opportunities for our most able year 8 students.
For me, the obvious choice was to recycle redundant key stage 5 texts. So my process involved taking extracts from drama texts and poetry anthologies to create tasks under my umbrella of 'Explorations in to Identity'. Undoubtedly, my examining experience helped here as my choice of material is challenging and stimulating. ITE trainees have been overwhelmed by such sophisticated discussions and confident outcomes. Debates have ranged from moral responsibility for others when we used Miller's 'Broken Glass'; to detailed analysis of how characters' lives can be, for a brief moment, transformed beyond their ordinary identities through Friel's 'Dancing at Lughnasa.' Students look forward to the seminar-type structure in the library and the chance to discuss and reflect with those from different English groups. These sessions run fortnightly and I have been pleased to share my resources with colleagues from other centres as a model of good practice. Other students want to join the group.
And this is where I think we can make dent in to a sometimes stifling curriculum. The opportunity to use (rather than belittle and condemn) the straightjacket of the new GCSE to offer creativity, extended reading and comparative analysis can be used to transcend typical homework tasks. Here, SMHW has been inspirational in facilitating task setting for both years 8 and 10 where engendering a love of reading through ambitious and stimulating text choices has been refreshing. Providing enrichment for one group of 12 year 8 students has created opportunities for stretch and challenge for all.
https://staffrm.io/@wyedeancpd/KUACzZqT7G
Lucy McManus 28.06.17
On the collaborative power of lesson study
In a recent Wednesday morning briefing I found myself sat between two teachers who kindly introduced themselves to me. However, I felt that I needed to explain to them that I wasn't a new teacher but an existing member of staff who has been at the school for over 2 years…and yet; I could totally understand why they wouldn't necessarily know who I am. I rarely venture outside my classroom and like most teachers spend break time and lunchtime working. There are many teachers that I have yet to meet and they probably have no idea who I am.
In taking part in Lesson Study, I was able to meet other teachers and share ideas and good practice. It took me out of my classroom and I was able to put names to faces. So often we live in our own little bubble, doing our own thing and can lose sight of what is going on around us.
I have to admit I was one of those reluctant teachers who thought 'this is another box ticking activity'…. and now look at me, sat here writing for this review! I didn't see this coming! Lesson Study gave me the opportunity to discuss issues I was having with colleagues and feel somewhat relieved that the issues were not mine alone. I decided to focus on student response in my Lesson Study triad as I teach a lovely Year 8 class who are always well behaved but a few students were not engaging actively with the learning. They were often the ones staring into space and needing reminders to start work. They never volunteered answers or seemed particularly interested in any of the language games we played. I just didn't know where I was going wrong…
So my colleagues observed the 3 students in a lesson and we interviewed the students afterwards. It was apparent that one was struggling with the learning. The second student just needed a different seating plan, and is working much better sat with learners of the same gender. This has now fostered in him a more competitive edge to get the answers right before his peers and has made the games we play much more fun and enjoyable. The third student just needed to be sat closer to the front of the class and told explicitly what they needed to do to improve, and given more thinking time before asking him for an answer.
Are these things that I could have worked out for myself? Yes probably, but I realise that the priority for me has always been lesson planning and teaching lessons. Sometimes it is good to get an outside opinion from other colleagues and put our heads together in a non-threatening but mutually supportive way. Indeed collaborating on the lesson planning and being involved with the observations has meant that the individual needs of the students were identified much earlier than I may have seen them and this can surely only be a positive thing.
https://staffrm.io/@wyedeancpd/QqouiqYEdp
Natalya Cavaciuti 26.06.17
Duke of Edinburgh
Training to become a Duke of Edinburgh Expedition Assessor
The casualty in front of me wasn't responding. He lay twisted awkwardly on his back on the damp ground, wrapped in layers of winter clothing. I knelt beside him, talking reassuringly as I went through my checks …airway… breathing…circulation…damage… any sign of bleeding from the ears indicating skull compression? My team mate turned away: "I feel sick!". He crumpled to his knees, collapsing, helpfully adding to the casualty count.
"What now?". I spoke out loud, knowing the assessor was standing close by with his clip board, watching critically. "Prioritise. Deal with the non-breathing casualty first…". To make matters worse, my second companion slumped on the ground shivering uncontrollably, mimicking the onset of hypothermia… oh great…
That was Day 2 of my Outdoor First Aid course. It took place on a cold January weekend, with Tewkesbury School playground acting as a backdrop for mountain and moorland first aid scenarios. I left, mentally exhausted, but having successfully completed the course – and with my head brimming with strategies for the range of scenarios I might just have to encounter when running Duke of Edinburgh expeditions with our youngsters.
Two months later myself and Rob Durston found ourselves labouring across moorland above Princetown. The sun shone from clear skies and a gale blew forcefully over Dartmoor as we laboured, cursing under our breath over knee-high tussocks of ankle-twisting, energy-sucking marshland. We were shadowing Richard – the D of E Assessor we had been assigned to. We scoured the maps, checked compass bearings, reviewed the route cards completed by the Gold Expedition groups andtriangulatedapoint at which we hoped our paths would intersect. There are 20 conditions that expeditions have to fulfil and we were pleased that our pre-assessment training had paid off – to the degree that the previous evening our assessor, sitting in front of an empty pint glass, shifted uncertainly when we were accurately able to describe and number the conditions – including some that he had forgotten.
Our school now has 27 year 10 students engaged in the Bronze Duke of Edinburgh programme and two members of staff qualified as Expedition Assessors. The hope is that this will grow as we develop our Silver and Gold programmes. It is an inspiring award and brings with it an appreciation of the outdoors, resilience, teamwork, problem- solving and a whole array of wider life skills. I am finding the training I have had, and the possibilities ahead, very exciting. Many thanks to those staff who have already offered to help out with our planned expedition training weekends. I'm delighted that the school is investing in its staff in a way which will enhance the life of our students and bring them a taste of adventure…
https://staffrm.io/@wyedeancpd/Fc0uro91u0
Tom Rugg 21.06.17


Using sentence sums
Twice this year I have experimented with this strategy and both times, it has been a success.
My year 8 students have read a range of fiction including, as part of a unit on American literature, Steinbeck's 'Of Mice and Men'. On several occasions, we have analysed aspects of Steinbeck's style and discussed how we could apply this to our own craft. We focused closely on the description at the start of chapter 4: 'Crooks, the Negro stable buck, had his bunk in the harness room; alittle shed that leaned off the wall of the barn.'
Once we had explored the content and analysed Steinbeck's methods, students wrote sentence sums to decode how he had constructed his sentences, so that they could replicate his formulae.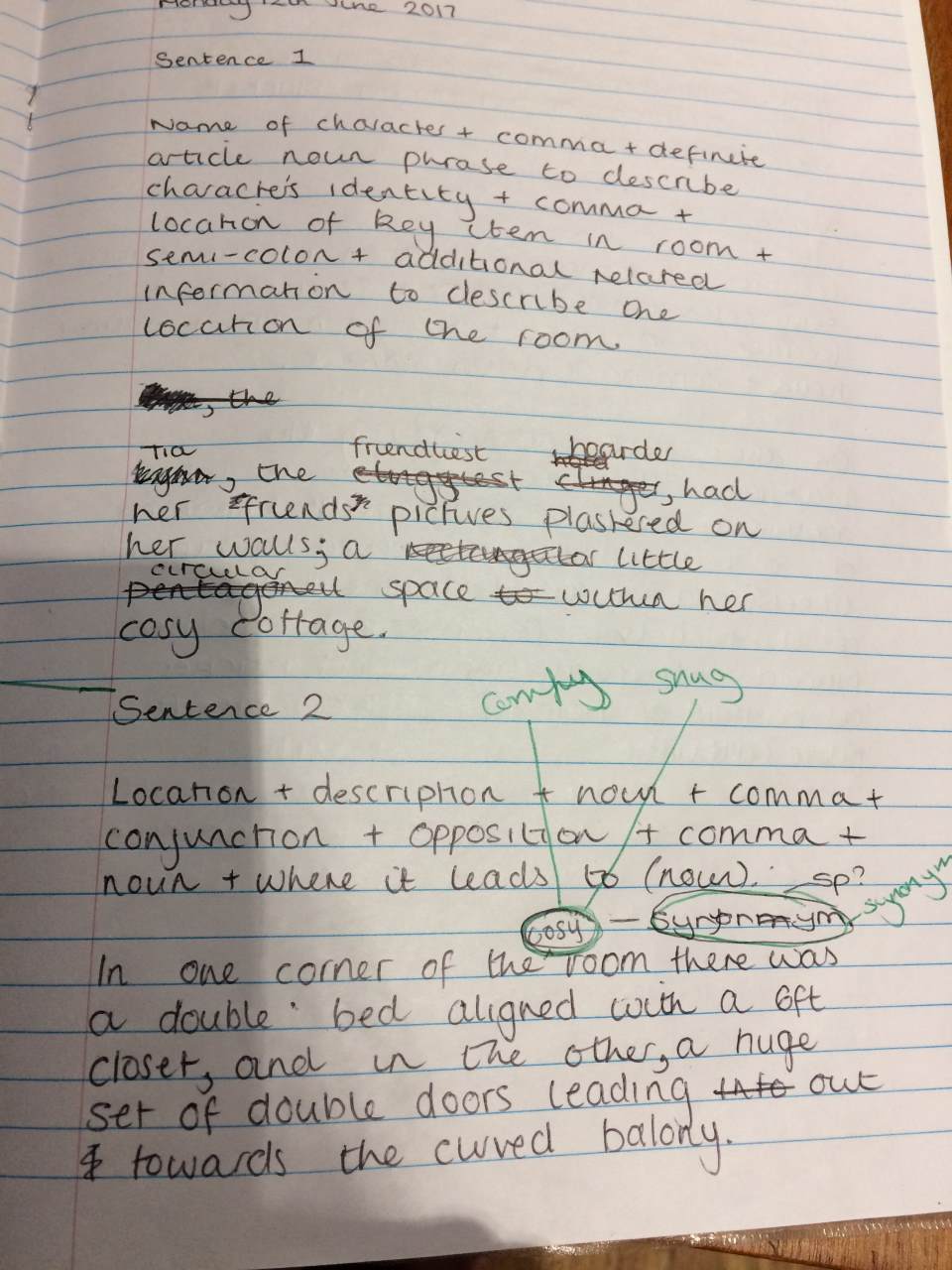 As a result, they could successfully evaluate authorial intent; confidently compare narrative styles (commenting on Steinbeck's preference for unfussy noun phrases rather than exaggerated adjectives, which, for them, 'was to reflect the harsh and minimal conditions of the American Depression'); and skilfully explore such a purposeful approach in their own writing. They were tasked with describing their own character's room and used setting to reflect the persona.
This has been a successful way to embed numeracy in to the English curriculum as this strategy uses mathematical methods to structure sentences.
This also helps with GCSE preparation, especially tricky Paper 1 Question 3 as they are forced to consider what happens when in each sentence and why. They will be equipped with a range of approaches for Question 5 too.
And, they love it. They enjoy the rigidly enforced structure; the inevitable success with accurate and varied punctuation; the ability to create tone and to experiment stylistically. Students who may struggle with creativity and ponder, 'But how do I start' have ordered stepping stones already laid out for them. And by exposing them to a range of literary styles, we are instilling high expectations.
One of my students wrote this in response:
I have very much enjoyed writing pieces of work to mimic author's styles. My main reason for this is that it is a challenging way to stretch my learning, whilst sticking to a structure. The pieces of work we have mimicked so far have been inspired by Dickens and Steinbeck – for these pieces, we have been instructed to stick closely to the structure of the author for at least the first paragraph. To help me with this, we constructed 'structure sums'. I liked the way we had to focus more on using varied and sophisticated language within a set structure, as opposed to rambling on and using punctuation that wasn't needed. I find this style of writing interesting and surprisingly fun and I would be very happy to do it again.
I cannot wait to try the same with 'Gatsby' and see how they echo Fitzgerald's 'single, green light, minute and far away ...
https://staffrm.io/@lucymc/GkZdK73dr5
Lucy McManus 19.06.17


On Librarianship
People sometimes ask me what does a school librarian mainly do? So I was quite amused when I came acrossauthor John Townsend's description in the School Librarian SLA journal, based on his observation of librarians in schools over the years (I have added 1 or 2 of my own for good measure!): " author expert, agony aunt, administrator, bibliophile, book bargain hunter, cataloguer, chewing gum scraper, coat finder, data manager, display expert,events organiser , form filler, grammarian,helper, hat-wearer,IT trouble-shooter, information literacy consultant, interior designer, jam tart maker, Kindle expert, literacy co-ordinator, learning resource manager,lift-controller, loudness monitor,money raiser, motivator, memory stick rescuer,nagger, nurse,online librarian, photographer, proof reader, phone confiscator, query handler, researcher, social worker, storyteller, social media advertiser, shusher, supervisor, tissue-provider, utilities provider ( have you got a stapler Miss?) vocabulary expert, websiteevaluator, Xmas tree decorator, (I struggled with X!) youth worker, yummy cake-maker and zip file creator (and Z!)." (SLA, 2012, The School Librarian, volume 60, no.4).
Isolation can sometimes be a problem for school librarians, but this is overcome by the great support I get from the English team and am also very well supported by the LSE (Gloucestershire Council's Library Services for Education, whose role is to provide learning support in a range of educational settings). It's a great opportunity to share ideas and problems, and I usually return fully recharged! I also like to collaborate and get involved as much as I can with what is going on in the wider world of literature and librarianship. We have worked with the public library quite a lot and taken the year 7 students down this year to check out resources. We have also been involved with the Reading Hack – providing student volunteers for projects within the public library such as the summer reading challenge. Carnegie Shadowing also widens our horizons, uniting students and librarians across the UK for 3 months of the year and another highlight of my year is our annual trip to the Hay on Wye literature Festival where we meet a range of famous authors and experience the very special atmosphere of the festival.I also really enjoy being a judge in the BBC 500 words competition as it is something really different and fun.
As a school librarian there is always some new competition or initiative just around the corner. The role of the school librarian is evolving and changing rapidly in line with digital changes and away from the former traditional role. There is no end of projects to get involved with, not enough hours in the day and no two days are ever the same! Whoever said being a librarian was boring?
https://staffrm.io/@wyedeancpd/SfvFQP0aAI
Angela Friel 19.06.17
On introducing Classics and enthusiasm for intellectual opportunity
Having successfully introduced Latin at KS3 a year ago, Wyedean is now seeking to expand Classics provision to an accredited level. We plan to introduce Latin at GCSE to Year 9 students as a twilight extra subject and Classical Civilisation at GCSE to 6th formers as an enrichment option. This will certainly strengthen the work we already do and, hopefully, encourage interest and enthusiasm in general.S ince none of our staff have admitted to having sufficient knowledge of Latin to run the course in Year 1, we intend to recruit a peripatetic Latin tutor for the first year. Staff members interested in this unusual CPD opportunity will shadow the tutor over the course of the year, receiving further training from Bristol University, with a view to taking over in Year 2 and beyond.
Thus far, the response to Latin from both the students and parents has been overwhelmingly positive. Currently, a group of thirteen students in Year 8 targeted for stretching and challenging are working independently on Classical Civilisation projects. The work they have thus far produced is phenomenal. The enthusiasm for this intellectual opportunity has been astonishing. Students were given a basic outline of the topics they might like to research and then invited to follow their own interests as they investigated. This is where the beauty of Classical Civilisation lies. Students have chosen to follow their interests in linguistics, history, politics, architecture, fashion, culture, mythology, anthropology and criminology.
adfecere pariter, perfecere partier
The enthusiasm for Latin and Classics is already well established through the work we have carried out over the past year. The impact of GCSE Latin in particular will be assessed in the following ways:
Numbers opting to take the subject

GCSE results gained by each cohort of students

Regular attitudinal surveys of students, teachers and parents to gauge their enthusiasm for Latin
There is already a real sense of excitement at Wyedean about the possibility of offering Latin at KS4.
The school will be offering an extra GCSE thus giving students further opportunities in terms of further education and employment. It will develop the spirit of Latin and Classics as being part of Wyedean and more importantly an important part of education generally.
https://staffrm.io/@wyedeancpd/Dc0xNane0u
Lucy Roberts 14.06.17
Promoting Global Teaching and Learning
One of the main areas that I have focused on over the 6 months, is for Wyedean to build on the British Council International School Award status. Thank you to all of you who have supported this and continue to celebrate the international and global links in your subject areas on a whole school level.
The International School Award requires us to continue to raise the profile of languages throughout the school. In September, we held a Mandarin workshop for students in September, which has led to a successful weekly lunchtime lesson for KS3 we continue to be the local hub for Mandarin teaching and learning whereby our Mandarin teachers are based at Wyedean and travel to our feeder primaries to teach them on a weekly basis. From March, we are also offering a 6 week long intensive Business Mandarin course to our sixth form students and staff as part of their enrichment.
In September, we celebrated World Day of Languages with our food tasting café, which was a great success.
We continue to establish links with schools worldwide and the school continues to Skype with other schools around the world in collaboration with the eTwinning scheme and Skype Classroom.
We continue to work with the language school 'In Lingua' – based in Cheltenham – on School Integration Days. We are now one of their best schools for them to place visiting students from countries around the world in order that they experience what a day in the British school system is like. So far this year, we have welcomed 55 Japanese students and we have another 35 visiting in July along with 38 Italian students and 20 French students in April.
We are a school that continues to promote Global teaching and learning and being a Global Learning Program Expert Centre (GLP) this year has allowed us to become a CPD hub for teachers across South Gloucestershire who wish to improve Global learning in their school.
https://staffrm.io/@wyedeancpd/gpvhzAChbg
Rebecca Simpson 12.06.17
Reflections on this year's CPD
This year, I have made some further progress with whole school numeracy, leading a Wednesday briefing in the autumn with ideas for staff to think about implementing. One key idea was that numeracy can also be about mathematical thinking, such as sequencing events. A google survey was put out and after collating I will look to analyse our strengths and shortcomings with numeracy across our wide curriculum. I was also lucky enough to be granted a day at Bradley Stoke school to see their sport and numeracy day with year 7s. The visit gave me some good ideas which I hope to embed soon.
I have enjoyed also the work with lesson study as it gives a rare chance to actually reflect with other teachers on teaching and learning. The planning in triads has been enjoyable as we can share ideas and approaches. Observing the lesson was great as the focus was not on the teacher, but on the target students. This meant we were focused on how they reacted to the tasks during lesson rather than the delivery itself. As we move into the next phase of lesson study I look forward to seeing how we can have impact on the learning of our target students and how hopefully our interventions will be fruitful. It is a shame that we don't have the time to do more of this and meet up to discuss and plan…
https://staffrm.io/@wyedeancpd/d1XPehP9T4
James Male 07.06.17
Adopting guerrilla tactics to provide creative opportunities
I've tried to launch creative writing journals several times.
They have started with good intentions: students engaged; well received within school.
But then the nagging starts ... and the writing stalls ... and eventually the venture folds like a used paper napkin.
However, this time I think I've cracked it. Having followed @the_Book Fairies on Twitter, I have been impressed with their charitable philosophy of sharing worldwide passions for literature by hiding varied works of prose in secretive locations, to be found by unsuspecting members of the public, with the instruction to take the book, read it and then leave for the next person to enjoy. It struck me that we too could adopt the same philosophy. Instead of our creative magazine festering in the back of a disused filing cabinet, why not share across the community?
I put the proposal to my year 8 students who immediately bought in to the idea. We had been studying Dickensian characters and they were particularly motivated by the intensity of Gradgrind and Scrooge. So, we decided to create our own 21st century stereotypes by mag-pieing Dickens' structural devices (preparation for GCSE English Paper 1, question 3). Each student came up with a character with whom they could associate: the angry dinner lady; the teenager glued to the cracked screen on their phone; the disaffected fast-food outlet employee. We then explored one hour in their characters' lives, practising the art of condensed narrative (Paper 1, question 5) and saying a lot about a little.
Encouraged, we compiled the journal and then arranged where and when we would drop the magazines on to the unsuspecting public. So this weekend should see 'The Wyedean Review' popping up in coffee shops, hair dressers, hospital waiting rooms, primary schools, leisure centres, libraries ... There are endless possibilities. Students have been encouraged to photograph locations and tweet @WyedeanEnglish using the hashtag #whyreadwyewrite‍. By bombarding the local community and using the twitter sphere, I hope to enthuse others with similar projects.
The benefits are vast. In terms of preparation for GCSE, we have stepped outside the classroom and created a live audience for our writing. Undoubtedly this has meant students have valued crafting a 'professional' piece of literature for public consumption. And as covertly as they are dropping their magazines, I have snuck in many valuable skills required for GCSE English Paper 1.
This will be a half termly project, where differing ages and abilities will take responsibility for producing the content, promoting our culture of high expectations for all. This project also has wings: excitingly, the Art department have offered to produce the front cover; Business Studies students have offered to deliver the publication ... there are endless possibilities for collaboration.
However, most importantly in times where we repeatedly read about creativity being sapped out of the curriculum, we have reinvigorated a love for creative writing. That most wonderful skill of creating a character and shaping their future.
I have even written this blog.
Thank you for reading. https://staffrm.io/@lucymc/vAhL79F7Pi
Lucy McManus · 13.05.17
HOMECOMMUNITY Teacher Expectation: Creating A Culture of High Expectation for all, by @Wyedean_CPD
Labelling and notions of fixed ability are prevalent in our education system. Students are divided into groups according to their prior attainment and 'appropriate' work is provided as a result. OFSTED inspectors check that teaching is differentiated accordingly and some teachers are encouraged to provide lesson objectives according to 'all, most, some', creating an opportunity for teachers and students to subconsciously lower their expectations. From the earliest stages of formal education, teachers are required to make predictions about future development based on present attainment, determining students' academic ability.
In their 1968 book, 'Pygmalion in the Classroom', Rosenthal and Jacobsen reported that experimentally created teacher expectations resulted in changed performance on the part of the students. Teachers were told by researchers that one group of students would make significantly more progress than their peers. Despite the fact that these 'bloomers' were randomly selected, this group 'showed greater IQ gains over the course of a year than a group of control students'. The debate continues to rage…
Rubie-Davies et al refer to teachers as 'high and low differentiating', finding that 'none of the high expectation teachers grouped their students by ability', suggesting that 'within-class ability grouping (can have) detrimental effects on student self-beliefs'. Compared to setting, however, Baines suggests that within-class ability grouping is an advantageous form of grouping as it can 'be more closely connected to learning and teaching objectives' and 'offer greater flexibility in reassignment of students', although warns against homogenous ability groups as 'all participants have similar understandings or assume that others already have these understandings'.
A further characteristic of high expectation teachers is a positive teacher-student relationship. Ireson and Hallam find that 'pupils who feel supported by their teachers are less likely to become alienated and disengaged from their work', claiming that 'environments that foster a sense of belonging (should) also promote achievement. Muller et al report students feel 'it is important to have teachers who care about them. They want…their teachers to be able to believe that they can do good work and demand it'.
The final aspect of practice in which high expectation teachers differ markedly is through goal setting based on regular, formative evaluation. Providing students with clear, specific feedback about their goals can aid student progress. Hattie also claims that 'feedback is among the most powerful influences on achievement'. In order to have the most impact, feedback needs to be 'purposeful, meaningful and compatible with prior knowledge' as well as 'relating to specific and clear goals'. The research warns against directing feedback at the level of 'self', and stresses the importance of allowing learning from mistakes, suggesting that 'we need classes that develop the courage to err'.
The terminology of 'a culture of high expectations' is in itself complex and problematic, but any opportunity to explicitly raise expectations should be seen as a moral imperative.