EXAM Results
DfE Performance Tables Analysis 2017
Wyedean is very pleased to announce that our revised internal Progress 8 figure is +0.23, meaning students on average achieve a quarter of a grade higher in each of their 8 GCSEs (or BTECs) than the average school in England. In the revised Performance Tables that were published by the DfE last week, we are top of the all the three main measures for both progress and attainment in the Forest of Dean, and placed highly in Gloucestershire as a whole.
Our Progress 8 figure of +0.23 was not published due to the DfE rule where the figure is not published for schools who have less than 50% of their students in that year group with English Key Stage 2 results. This is due to our unique England-Wales border position, attracting many students who went to primary schools in Wales. It is likely that this is the only year where our P8 figure will be suppressed.
When looking at any externally published Progress 8 data, however, it is important to note that this does not include our students that were educated within the Welsh sector. Since Progress 8 has been a measure, these externally generated figures have always been significantly lower than actual. Our own P8 figures provide an accurate view of how students progress at Wyedean.
Using our Progress 8 figure of +0.23 our position in the league tables are as follows:
Gloucestershire secondary schools – Key Stage 4
Progress 8 - 8th
Attainment 8 - 16th
English and maths grade 5+ measure - 14th
Progress 8 performance of our disadvantaged students - 7th
Of the 5 other government-funded mainstream secondary schools in the Forest of Dean constituency we are top for all of these measures.
Gloucestershire - Key Stage 5
Progress score - 17th
Average A-level attainment - 24th
Applied general (BTEC) – 3rd out of 18 schools with data
Of the other 2 government-funded 6th form providers in the Forest of Dean constituency we are top for all of these measures.
Statistically similar: please click HERE
Gloucestershire: please click HERE
FoD: please click HERE
GCSE Results 2017
After a two year rollercoaster of new reformed GCSEs our wonderful Year 11 students can finally celebrate their success! This year we have seen some record results at Wyedean as students celebrate their best ever GCSE performance under the tougher new system in England. In an unprecedented first year of national GCSE reforms in England, with English and Maths now much tougher than before this year we celebrated some well-deserved excellent outcomes for students.
Students achieving a GCSE pass grade in English and maths (Grade 4 in either English Literature or Language)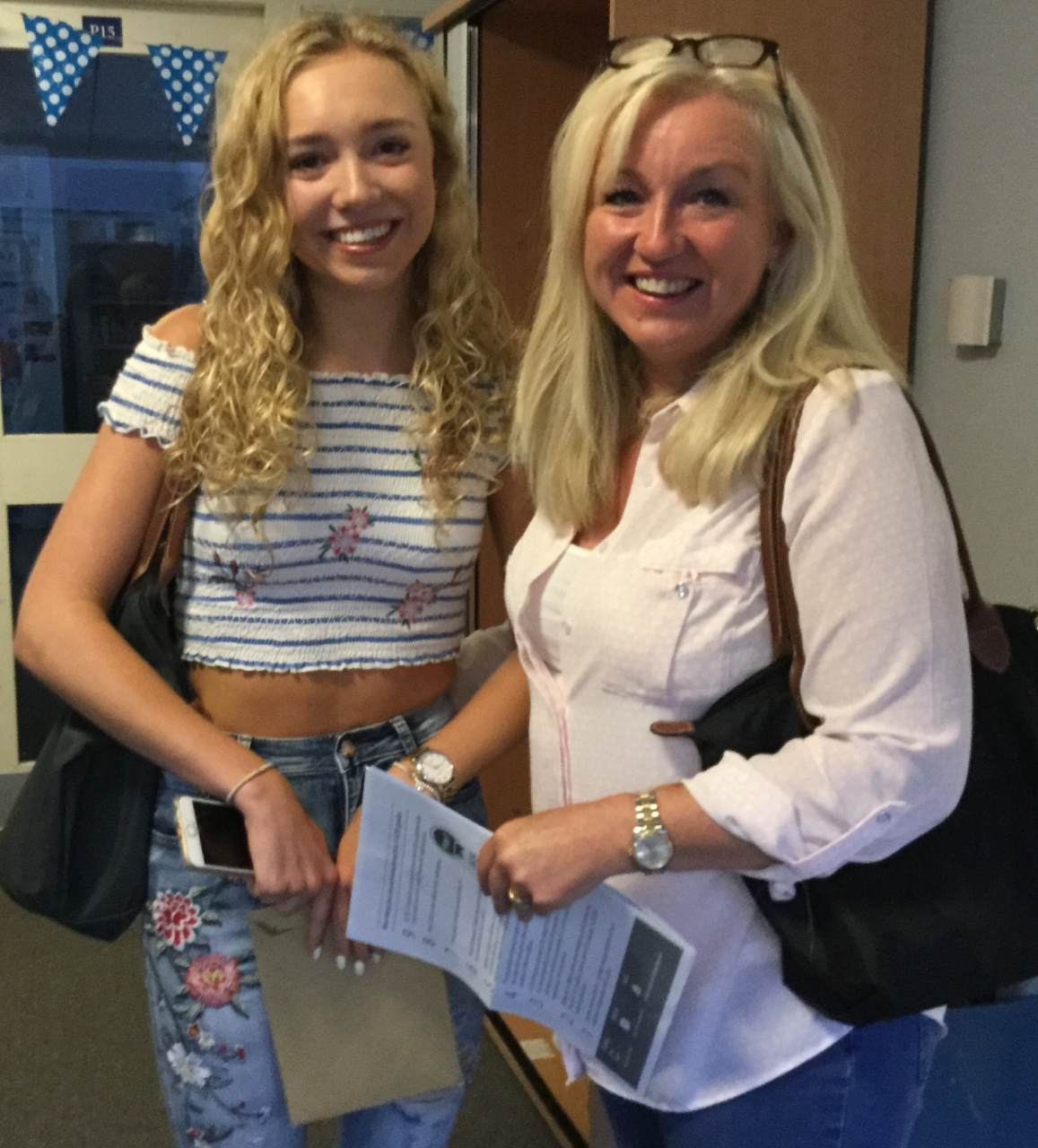 Under the Dept of Education's former measurement of 5 x A*-C including English and Maths equivalent the school has achieved 73% of all students obtaining these grades, up 8% on 2016. The numbers of students achieving both English and Maths at a Grade 4 pass is 75%. Not only this, around a fifth of Year 11 achieved an outstanding 5 x A*-A grades or equivalent. Despite professional national concerns that the new top grade of 9 was unobtainable under the new numerical grading in English and Maths, this has been achieved at Wyedean in these subjects by 9 students across Literature and Language and 5 students in maths.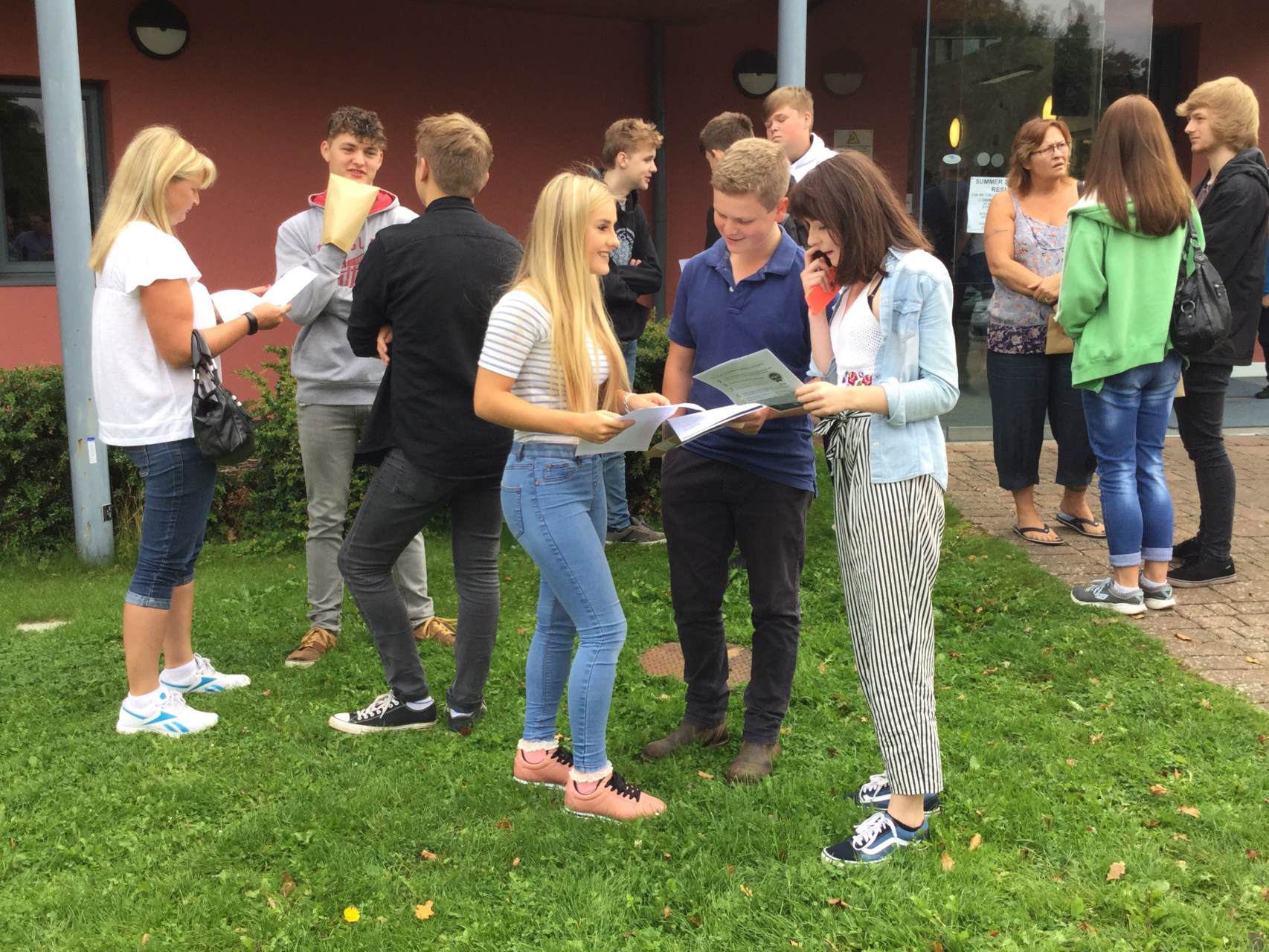 Key headlines, boxes shaded in green indicate the measure is above the national average as we currently know it:
Provisional Results 2017

(without full verification or reviews of marking)
English GCSE (best grade)

NAT AVG

English Lit

NAT AVG

English Lang

NAT AVG

Maths

NAT AVG

5 A*-C only English and maths
5 A*-C in 5 subjects including English and maths

Achieved a pass grade, to enable them to enter HE or employment (standard pass Grade 4).

85%

72%

77%

64%

78%

69%

79%

66%

75%
73%
Achieved a pass grade at the equivalent of an old B- (considered a strong pass by the DFE Grade 5).

67%

54%

54%

48%

58%

51%

61%

Not known yet

58%

Achieved a Grade 9 (the new top measure of performance in English, English Literature and maths

5%

3%

2%

2%

3%

3%

2%

Not known yet
We celebrated a number of notable individual performances including an incredible number of students (18!) who achieved 8 or more A*-As (and equivalent). We are proud of all our students and will continue to support them in their next steps – whatever those might be.
Head of Year 11, Katya Delahay, praised the positive relationships that epitomises the school community at Wyedean School; "Throughout the year staff and parents have been working hard, continually supporting the students and the students themselves have shown real tenacity & resilience in how dedicated they have worked to achieve these results especially with the added dimension of the new changes."
Martin Jenkins, senior Vice Principal said "It's wonderful to come into school on results day in August and celebrate the real achievement and personal success stories of our students. These students and our community are the strength of this fantastic school."
Rob Ford, Principal, said "This is a tremendous Year group and what they, their teachers and parents have endured implementing these new GCSEs is astonishing. I am proud of them and there are so many great stories of real determination, drive and success. All associated with Wyedean School, students, staff, governors, parents have gone the extra mile and the exam success would not mean what it does without the holistic education in preparing these students to go onto their next challenge. Everyone knows what a remarkable school Wyedean is and delivering the highest standards and outcomes for all students in our caring community is what motivates us every day to want to do more to create further opportunities for the young people we are fortunate to have here at Wyedean. There is real excitement to start the new academic year in September and continue the next chapter of the Wyedean story."
As always we strive to continue to improve outcomes for all our students and while celebrating our improved performance, we continue to learn and push for even better results next year! We are committed to balancing high aspirations for the academic achievement of all of our students with good wellbeing and a well-rounded outlook: it is the Wyedean Way.
Aspire together, Achieve together
If you would like to know more about our outcomes, or our curriculum and provision at GCSE or A Level, please contact the school directly.
2017
Wyedean School and Sixth Form Centre draws students from both England and Wales due to our location and the quality of education we offer. As a result of how the Department for Education calculates performance measures for schools, students who have Key Stage 2 results from Welsh primary schools are not included in official progress measures. Secondary school's main accountability measure by which we are judged is Progress 8. Our figure this year is not published in the school performance tables as just over 50 percent of our students did not have English KS2 results. Below, are our figures including all students who have KS2 results from England and Wales, covering 92 percent of the year group. These figures also include grades which were changed by the exam boards after results day.




Performance data: KS4

Progress 8 score

+0.26

Attainment 8 score

50.53

% of pupils achieving a pass in English and mathematics

Grade 4+ (standard pass) 75%

Grade 5 + (strong pass) 53%

% of pupils entering for the EBacc

22%

% of pupils achieving the EBacc

15% (of whole year group)

Destinations (percentage of students staying in education or employment after key stage 4)

82% in 2015
2016
2015
2014
2013
GCSE
2012
2011
2010