WYEDEAN SCHOOL'S LATEST NEWS!
PLEASE NOTE: &nbsp &nbsp &nbsp Home - Top
Year 7 Parents Evening has been moved to Thursday 2nd March 2017.

Posted: 21-02-2017


WORLD BOOK DAY &nbsp &nbsp &nbsp Home - Top
Wyedean celebrates Wprld Book Day on Thursday the 2nd of March 2017.






Thurs 2nd March

- dress as your favourite book character - (Non uniform day) - £1 to Book Aid International / school library (50/50), plus

Mad Hatter's Tea Party

in the library!



Thurs 16th March

-

Potter Magic

- celebrate 20 years of Harry Potter - fun, magic and wizardry - lunchtime in the library.



Friday 23rd - 3oth March

-

Scholastic Book Fair

- 100's of fab titles to choose from! - Treat yourself to a sizzling new title to celebrate World Book Day



Plus:

Enter the exciting

OODLES OF DOODLES

competition to win an

AMAZING

prize for you and the school! (closing date Friday 14th April 2017)





Visit www.worldbookday.com for details and inspiration.

Posted: 21-02-2017


FameLab Academy 2017 &nbsp &nbsp &nbsp Home - Top
Wyedean School and Sixth Form competes in FameLab Academy 2017



Wyedean School started its FameLab Academy journey this week, with the winning student, Josh Thomas, destined to compete in the
countywide final organised by Cheltenham Science Festival.

Above: Finnley McNeil (£20 runner-up), Josh Thomas (£50 winner), Ryan Morgan (£20 runner-up).

Please download the Full Press Release HERE

Special thanks to Chris Jones who took the photographs of the event.

Posted: 17-02-2017


COUNTY BADMINTON FINALS &nbsp &nbsp &nbsp Home - Top
Wed 1st February. Both the Under 14 & Under 16 girls' badminton teams represented the Forest District in the County Badminton Finals this week.



Under 16 team: Carys Player, Cerys Willliams, Megan Napper, Emily Tsui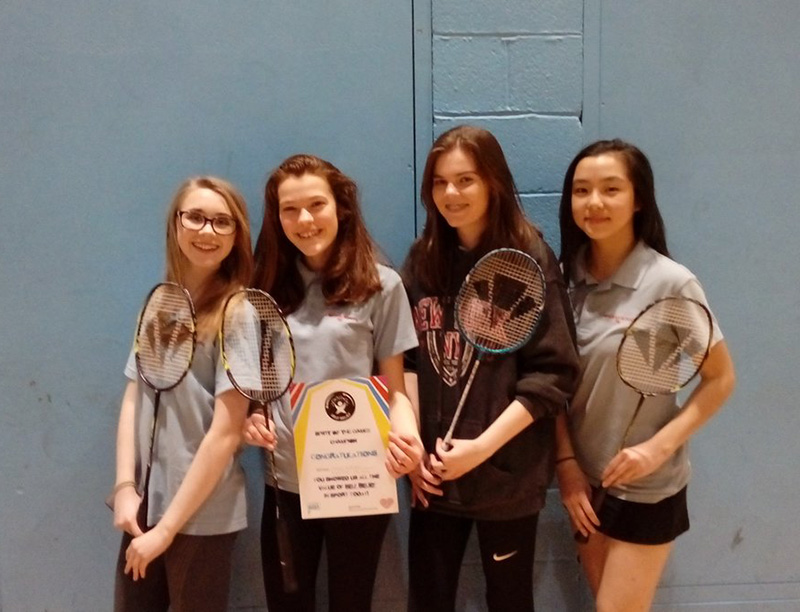 Under 14 team: Christina McComber, Corentine Dumond, Freya Cook, Mali Absalom, Indee Baker.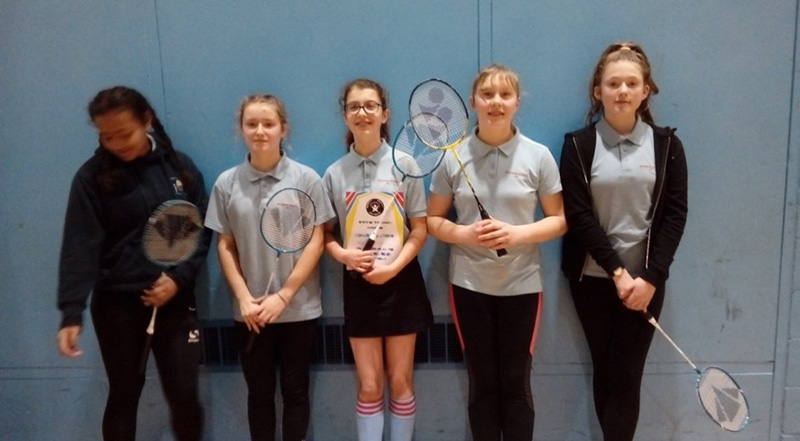 The girls came up against some very strong opposition from around the county but fought well in all their matches and played with real determination.

Results: Under 16 - Won 1 (4 – 1) & lost 3 (1- 4; 1 – 4, 1- 4). Under 14 – Lost 4 (1 – 4; 1 – 4; 1 – 4, 2 – 3).

Action from the matches: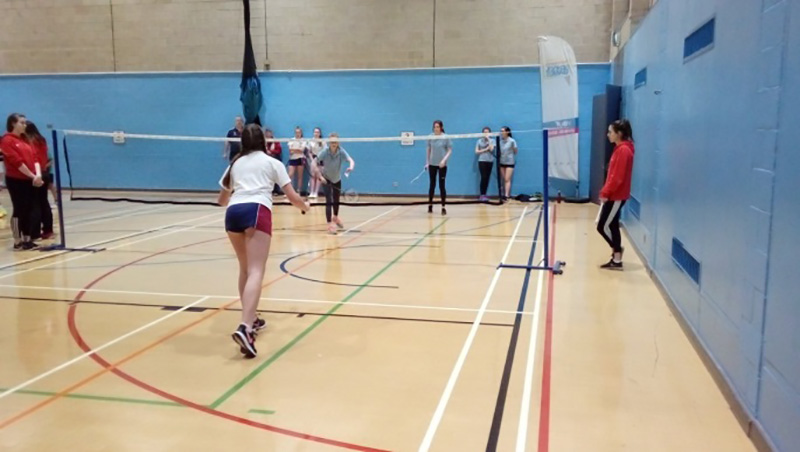 Cerys Williams and Freya Cook were presented with an award for Self-Belief to acknowledge their efforts throughout the tournament. Well done!

A special mention must be made to the Under 16 team - all 4 girls have now represented the District at the County tournament in 2015, 2016 & 2017 which is an excellent achievement. They have been so committed to improving their badminton and have been a real pleasure to work with since Year 9.

A great day by all girls; thank you for all your efforts - you were a credit to Wyedean.

Posted: 03-02-2017


EXAM INVIGILATORS REQURED &nbsp &nbsp &nbsp Home - Top
Assistant and Senior Exam Invigilators


We are looking for enthusiastic and organised people to join our examination invigilation team, in both assistant and senior roles.

You will play a crucial part in ensuring that our examinations are conducted according to statutory guidelines. You will need good interpersonal skills and an ability to relate to students, to ensure they have the best environment to meet their potential.

Employment is on a casual basis during mock and external exam seasons, currently November, January, May and June.

Previous experience of working in a secondary school environment is desirable, but not essential, as full training will be provided. Senior invigilators should ideally have held a position of authority within education.

For further details please visit our vacancies page HERE .

Posted: 26-01-2017


DISTRICT BADMINTON FINALS &nbsp &nbsp &nbsp Home - Top
A massive well done to the 12 students who represented Wyedean at the District Badminton Finals on Wednesday this week. There were some fantastic matches played by all teams. The Under 14 boys narrowly lost to Forest High School 2 - 3, but had some extremely close and well fought games. The Under 14 girls beat Dene Magna 3 - 2 and the Under 16 girls won convincingly 5 - 0 against Newent. Congratulations to both girls' teams who now represent the District in the County Finals at Stroud on Wednesday 1st February. Good luck to all girls involved.




Posted: 25-01-2017


BOYS' SPORTS FIXTURES &nbsp &nbsp &nbsp Home - Top
January


11th - Year 9 Badminton v Lakers/Dene Academy - Home
11th - Year 11 District Football tournament @ Forest High School
16th - Year 11 Badminton v Lakers/Dene Academy - Home
18th - Year 10 District Football tournament @ Forest High School
25th – Year 9 District Football tournament @ Forest High School
25th – Year 8 Rugby v Chepstow – Away
25th – Year 7 Rugby v Chepstow – Away
25th – Year 11 Football v Chepstow – Away



February


1st – Year 10 Football v Lakers - Home
1st – Year 7 Rugby v Lakers - Home
2nd – Year 8 District Football tournament @ Forest High School
8th – Year 7 District Football tournament @ Forest High School.
9th – Year 8 Football v Lakers - Away
9th – Year 9 Football v Lakers - Away



March


1st – Year 7 Football v Chepstow - Home
1st – Year 8 Rugby v Chepstow - Home
1st – Year 9 Rugby v Chepstow - Home
9th – Year 11 Sevens Glos tournament @ Bristol QEH School
14th – Year 8 Rugby v Caldicot – Away
14th – Year 10 Rugby v Caldicot – Away
21st – Year 9 Rugby v Caldicot – Home
21st – Year 7 Rugby v Caldicot – Home

Posted: 20-01-2017


YEAR 10 7-A-SIDE-FOOTBALL &nbsp &nbsp &nbsp Home - Top
Great turn out last night at the Year 10 7 a side Boys football tournament.

Well done to Wyedean on finishing first overall (only just on goals scored!). Please find attached the results from last night's tournament.

Further to Steve's email about Feb 2nd and the Year 8 football tournament, shall we re-schedule for Wednesday 1st February to avoid a clash with the Handball CPD and to also allow Wyedean to take part? If anyone can't make that date then please let me know.

See you next Wednesday for the Year 9 tournament.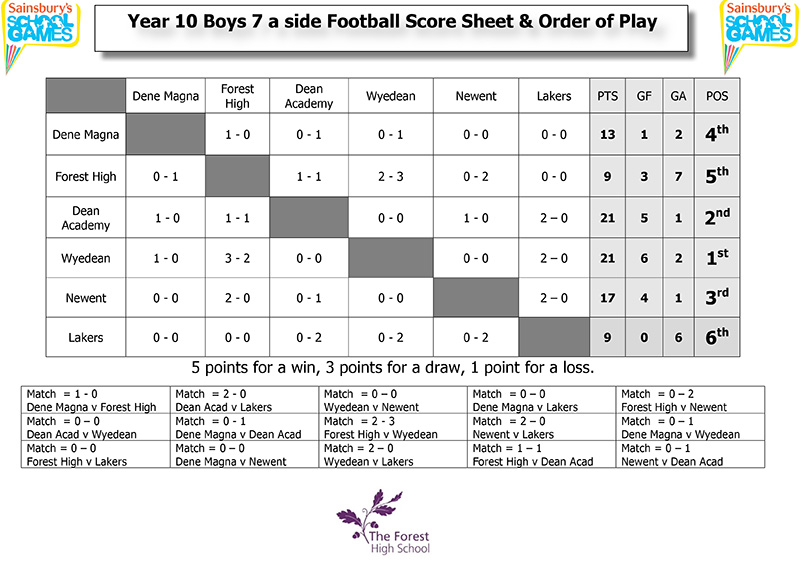 Posted: 19-01-2017


STUDENT IN COMPETITION SUCCESS. &nbsp &nbsp &nbsp Home - Top
Wyedean student Joshua Hicks in amazing dance competition success, please read the story by clicking on the link http://www.freepressseries.co.uk/news/15015324.Dancing_duo_taste_double_title_glory

Posted: 11-01-2017


WYEDEAN IN SCIENCE COMPETITION &nbsp &nbsp &nbsp Home - Top
Please read the article http://www.freepressseries.co.uk/news/15011411.Budding_scientists_get_set_for_competition

Posted: 11-01-2017


GCSE SCIENCE LIVE &nbsp &nbsp &nbsp Home - Top
Bristol, Colston Hall, Friday 03 March 2017


Year 9 students have the opportunity to see and hear 5 of Britain's top scientists, all working at the cutting edge of their specialisms. In addition, examiner Stewart Chenery will provide top tips for exam success. The day will be specifically for GCSE students, exciting, thought-provoking and relevant to today's problems.

The scheduled speakers include:

Professor Robert Winston: He is a medical doctor, distinguished scientist, particularly in the area of human fertility. He, like most of our contributors, has the gift of being able to communicate in a most engaging way. Not surprisingly he is also a well-known television presenter and in addition he is also a politician who sits on the Labour Party benches in the House of Lords.

Professor Alice Roberts: She is a clinical anatomist and Professor of Public Engagement in Science at the University of Birmingham. Alice has presented a range of programmes on BBC2, including Coast, Wild Swimming. The Incredible Human Journey, Origins of Us, and Prehistoric Autopsy. She is also to be heard occasionally on BBC Radio 4. She has authored four popular science books about anatomy and human evolution, and writes a regular science column for the The Observer.

Professor Lucy Green: A solar researcher based at the Mullard Space Science Laboratory, UCL's Department of Space and Climate Physics, she will be talking about her fascinating area of study: the activity in the atmosphere of our nearest star, the Sun. She has been a Dorothy Hodgkin Research Fellow and is a member of the Education Committee at the Royal Society. She has contributed to The Sky at Night, The Infinite Monkey Cage and presented Stardate on the BBC.

Dr. Simon Singh: He is an author, journalist and television producer, specialising in science and mathematics, which are, as he says 'the only two subjects I have the faintest clue about'. His books include Trick or Treatment (on alternative medicine), Fermat's Last Theorem, The Code Book, The Simpsons and Their Mathematical Secrets and "Big Bang", which is the subject he will be covering in his lectures at Science Live!

Professor Mark Miodownik: Mark is an engineer and materials scientist. He is the Professor of Materials and Society at UCL where he teaches and runs a research group in the Mechanical Engineering Department of UCL. Research areas include self-assembling materials, self-healing materials, psychophysical properties of materials. He gave the 2010 Royal Institution Christmas Lectures, and is a regular presenter of science and engineering BBC television programmes, most recently BBC Science Club.

Further details and information can be obtained at http://gcsesciencelive.net/

The cost of the trip is £30 which includes entrance to the event, coach travel and staffing. The coach will depart Wyedean School at 9.00am and we should return at approximately 4.00pm.

All students must wear school uniform and bring a packed lunch and a drink.

If you would like your son or daughter to attend this trip, please complete the tear off slip below and return it to the Cash Office by Monday February 6th 2017.

Please make your payment of £30 online via your child's account. This trip should now appear under the trips section of their account.

We have a limited number of tickets and so the first 50 students to return their reply slips will go. Places will be allocated on a first-come-first-served basis.

Please check for clashes with rehearsals, sports fixtures and other commitments before you book.

Mr S Motson (3 i/c The Sciences)

Posted: 11-01-2017


THE LOST CITY &nbsp &nbsp &nbsp Home - Top
The lad who bought a field and discovered a lost city!

Wyedean's own ACL Archaeology tutor - Stuart Wilson was that perspicacious lad!

In 2002, on discovering that mediaeval pottery pieces had been found in a field near his home on the English/Welsh border, Stuart went to investigate. The shards were thrown up by burrowing moles and the molehills were full of clay pottery. Within minutes, he also found what he believed to be the remains of a wall. On further investigation, Stuart discovered that the pottery, which was domestic, dated back to 1200's (when the lost city of Trellech was at the height of its powers) and the wall proved to be part of a house. In 2003, another building was found on the same plot. This plot provided evidence that the landscape pattern was that of a footprint of a large medieval settlement.

In 2004, an opportunity arose to purchase a field opposite to the one containing these discoveries. Stuart, then 25, took a huge gamble and raised the money - £40,000 – to purchase this field. However, the commitment of the field has limited his employment: he subsequently can only afford to do part time work and work within the local area. It was an act of faith: Stuart's quest for the lost city of Trellech was on!

He has found evidence to pinpoint eight buildings and signs of a large settlement, home to 10,000 people, perhaps a quarter of the size of mediaeval London. He estimates that the city size was built in one generation and that up to the 1200's there was nothing of comparable size in this area. The settlement was founded by the De Clare family in the 13th century to manufacture weapons, armoury and other military equipment to supply King Edward I's drive to create a Britain. Could this be the site of the mysterious and lost city of Trellech? On evidence, it appears so.

In his quest for the lost city of Trellech, he has had about 1,000 people join him on his digs from archaeology students to curious locals. Stuart is currently digging and making more discoveries. He is passionate about his subject and his expensive gamble has paid off: Stuart is now big news in the local and national press, with the Mail on Sunday and the Guardian recently featuring articles on him and his finds. He has also featured on TV programmes such as Time Team and Digging for Britain.

Stuart is also big news at Wyedean and we have a coup here! Stuart will be teaching on the ACL evening class 'Discovering Landscape Archaeology' starting next Wednesday, 18th January at 7pm here at Wyedean. He is passionate about his subject and very engaging. Students from last term's course appreciate his knowledge and the fact that he is a practical archaeologist, bringing in actual finds like bone and pottery that they can hold, examine and guess at. It sparks intriguing discussions and discovery of the past.

To find out more about the Discovering Landscape Archaeology course starting next week, visit the school website www.wyedean.gloucs.sch.uk (go to 'Community' then 'Adult Learning' then 'Courses' and download the Spring Term brochure). Alternatively ring 01291 625340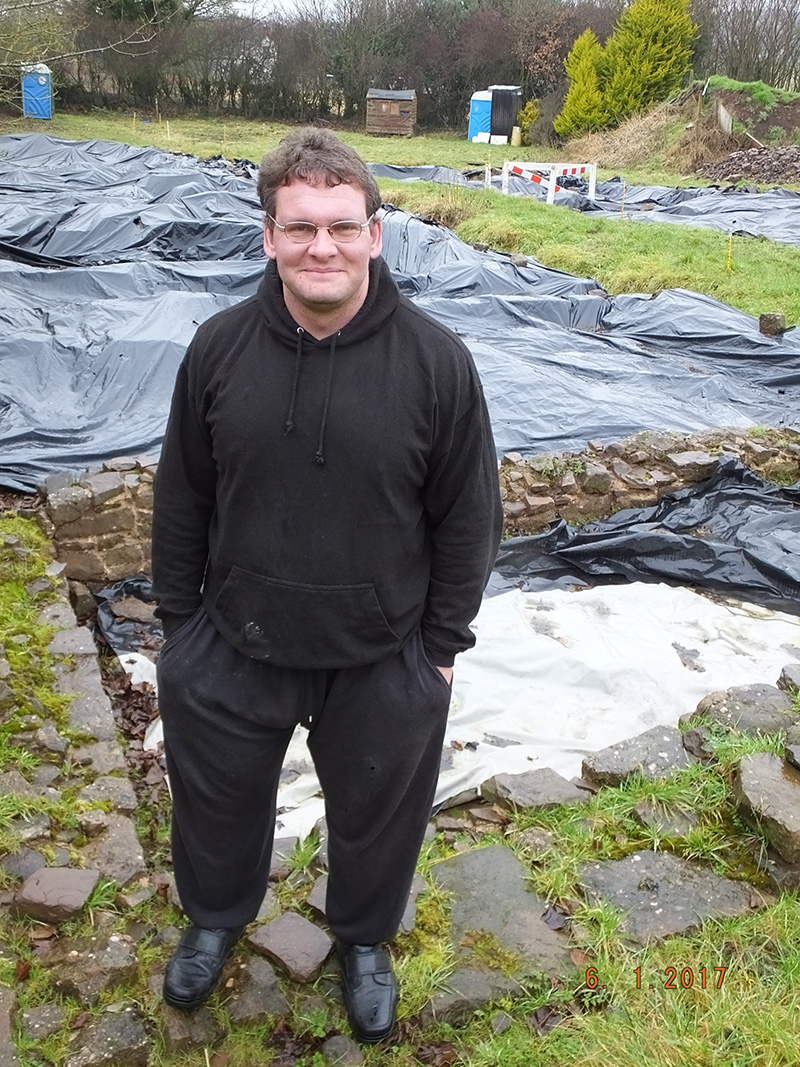 Posted: 10-01-2017


ADULT COMMUNITY LEARNING &nbsp &nbsp &nbsp Home - Top
Adult Community Learning classes start next week!

This is a great chance to enhance your life. Choose from many fantastic courses available. Browse the ACL brochure now, click HERE to download.

Posted: 09-01-2017


CHAMPIONS OF TOMORROW 2017 &nbsp &nbsp &nbsp Home - Top
On Saturday 7th January Y12 student Joshua Hicks competed in 'Champions of Tomorrow 2017', a national Latin and Ballroom championships in Blackpool's Winter Gardens.

Joshua and his new partner, Sophie Hayward, competed in the U35 Novice Latin and Ballroom championships – winning both. To win both disciplines at national championships is a huge achievement - something that hasn't been achieved for a decade.

Joshua and Sophie were the youngest competitors in the U35 category, aged just 16, and from score sheets they were unanimously the judges champions. As a result of their achievements Joshua and Sophie are now part of Latin and Ballroom history – Roll of Honours. They had to perform honour dances after their presentations on Saturday and were upstanding to the National Anthem. One very proud moment.

To add to this triumphant achievement Joshua and Sophie, who are part of the Dance Associations National League (NL) are currently top U35 Ballroom and Latin dancers in the league. Due to this Joshua and Sophie will compete in the National League Championships in July, hoping to take the NL title. This is by invite only – top 12 in the country will compete.

Over the next six months they will be learning new routines, with the aim of competing in UK Closed Championships.




Posted: 09-01-2017


GIRLS' SPORTS FIXTURES SPRING 2017 &nbsp &nbsp &nbsp Home - Top
Please download the fixtures HERE

Posted: 05-01-2017


LETTER TO PARENTS &nbsp &nbsp &nbsp Home - Top
Please download and read by clicking HERE

Posted: 04-01-2017


WINTER 2016 NEWSLETTER &nbsp &nbsp &nbsp Home - Top
Please click HERE to download.

Posted: 16-12-2016


SIXTH FORM NEWSLETTER &nbsp &nbsp &nbsp Home - Top
Please download the Sixth Form Christmas Newsletter HERE .

Posted: 16-12-2016


CHRISTMAS STALL 8th Dec. &nbsp &nbsp &nbsp Home - Top
On Thursday 8th December 2016, Year 10 Vocational students organises a Christmas stall as part of their Enterprise Unit for Vocational Studies. They sold handmade traditional Christmas cards and mini marshmallows and candy canes. The stall was so successful that they had sold out of everything by the end of break. They had a competition to name the Christmas teddy and the prize went to Dai Thomas for correctly choosing "Noel" and winning the teddy. Well done to the girls involved and for promoting it so well and thank you to all the staff and students for supporting it.

Mrs Dutson




Posted: 12-12-2016


CHALLENGE PARTNERS &nbsp &nbsp &nbsp Home - Top
Go to the Challenge partners page HERE , download the report HERE , or go to the Challenger Partners website HERE .

Posted: 08-12-2016


ROTARY SHOEBOX APPEAL &nbsp &nbsp &nbsp Home - Top
Tues Dec 6th 2016 Year 7 will be collating all our donations for the Rotary Shoebox Appeal. To get in the festive spirit for creating the boxes, students in year 7 (only) may wear a Christmas jumper or accessory on Tues 6th Dec for a 50p donation as further support for the Shoebox Appeal. Many thanks.

Posted: 05-12-2016


CHEPSTOW FOODBANK &nbsp &nbsp &nbsp Home - Top


Posted: 05-12-2016


CHRISTMAS CARD WINNERS &nbsp &nbsp &nbsp Home - Top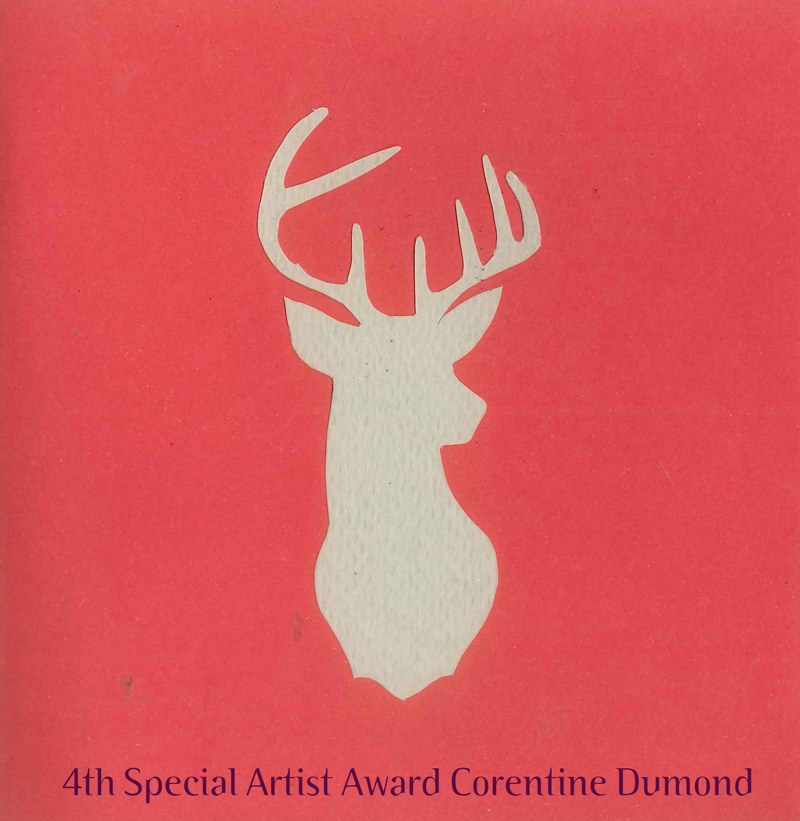 Posted: 02-12-2016


ROTARY SHOEBOX SCHEME &nbsp &nbsp &nbsp Home - Top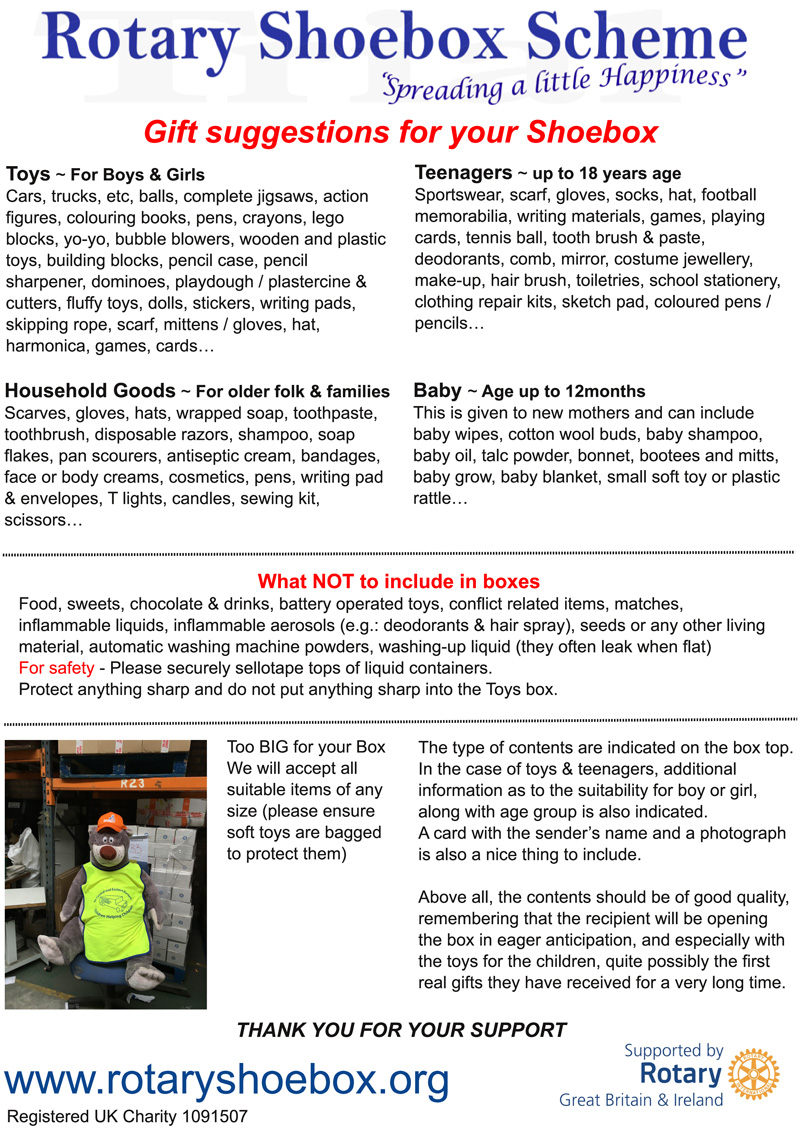 Posted: 02-12-2016


WYEDEAN PRESS RELEASE NOV 2016 &nbsp &nbsp &nbsp Home - Top
Challenge Partners Review of Wyedean School November 2016


The rapid and sustained improvement of standards at Wyedean School over the last couple of years since the OfSTED judgement of "Good" in November 2014 has been validated as "Good" with the recent review of Wyedean School by Challenge Partners. Challenge Partners is a school improvement network group of over 350 of the leading schools in England and was developed from the highly successful "London Challenge" group. Wyedean School joined Challenge Partners earlier this year to access the very best of educational innovation, leadership and teaching & learning development as it continues to be a beacon of educational excellence in the Forest of Dean and Wye Valley borders. Wyedean School was invited in 2015 to join National School Commissioner's, Sir David Carter's "Race to Outstanding" group of 12 leading schools in the South West as well as being a case study in 2016 "Parliamentary Review" because of the outstanding improvements made at the school. The Challenge Partners team were led by an experienced senior

OfSTED

inspector and were in school for several days in November observing lessons, meeting with school leaders, interviewing students as well as analysing school data. The English faculty were accredited as an "Area of Excellence" by the team who said "There is a culture of high expectations within the department to which pupils respond with enthusiasm. All English teachers have a collaborative approach to school improvement, striving for excellence with enthusiasm and determination".

The team were very impressed with the vision of school leadership and governors, the school's rapid progress and the direction the school is moving to become outstanding.



The report highlighted the positive school culture as key to the school's success:


"...the new Headteacher has worked tirelessly to develop a culture of openness, transparency and trust. In particular, leaders have been empowered and are enjoying the freedom to innovate. As a result, the school now has a clear vision and is a harmonious place where everyone feels valued. This is helping to drive school improvement because all stakeholders are pulling in the same direction".



On working with the local community and looking more global the report noted:


"Senior leaders have quickly recognised the importance of re-engaging with the local community... there is a thriving evening adult education programme and an emphasis on looking outwards. The recently introduced global learning programme is helping in this strategy... the school has a number of interesting subjects on offer such as Mandarin, Latin and critical thinking. Numbers of pupils choosing to study modern foreign languages and triple science are increasing... The innovative curriculum offer is helping to attract pupils to the school and to broaden their horizons."



On teaching and learning for students the report emphasised:


"There is a very positive climate for learning throughout the school… In classrooms, there is an inclusive atmosphere which enables quality learning to take place. Pupils feel safe to express their views and contribute their ideas… There are very strong relationships in the school and this is helping to drive forward school improvement. Staff know their pupils well and have a firm knowledge of the 'group' to which they belong. As a result, classroom teachers are able to target work to help their specific needs… Overall, there are high expectations of pupils in lessons. They demonstrate a willingness to learn and they want to do well. Consequently, pupils behave well and engagement is high. The school has come on a long journey and there is a sense of cohesion and moving forward together… Teachers encourage pupils to strive for excellence and pupils enjoy working collaboratively together and rising to this challenge".

Headteacher, Rob Ford said "This fantastic report highlights the hard work and determination of everyone associated with Wyedean School is aspiring to in terms of compelling learning and outstanding education for our community. I couldn't be more proud of the staff, students and community of Wyedean on how far they have come in two years".

The report is available HERE and social media.

Rob Ford


Headteacher


headteacher@wyedean.gloucs.sch.uk

Posted: 30-11-2016


RUGBY &nbsp &nbsp &nbsp Home - Top
Wyedean School v Gowerton School

For the second year in a row Wyedean School visited Gowerton School in Swansea and played at U16 and U14 age level. Unfortunately both sides lost playing against very talented opponents. The U16 lost 27-17 and the U14 lost 45 – 15.

We were hosted by Gowerton Rugby Club and then proceeded to watch the Scarlets play against Leicester in the Welsh pro 12 league. Students also had their photos taken with members of the Scarlets Team who eventually won their game. The students were a credit to the school both on and off the field.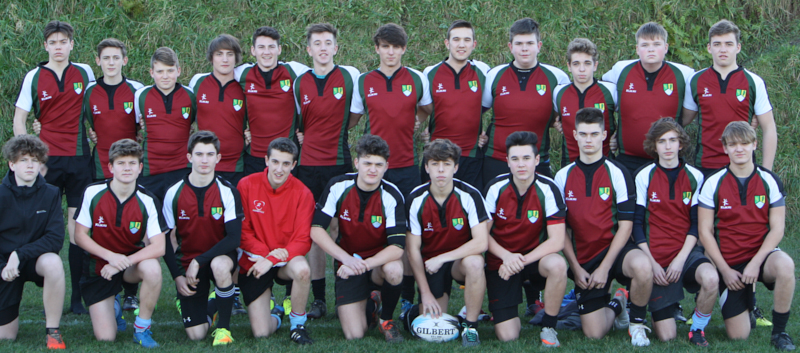 Posted: 30-11-2016


VISIT BY BARONESS ROYALL &nbsp &nbsp &nbsp Home - Top
Our students were delighted to hear about the work of Baroness Royall in the House of Lords. The students asked excellent questions and learned a great deal about Brexit, the state of politics and the work of the Lords.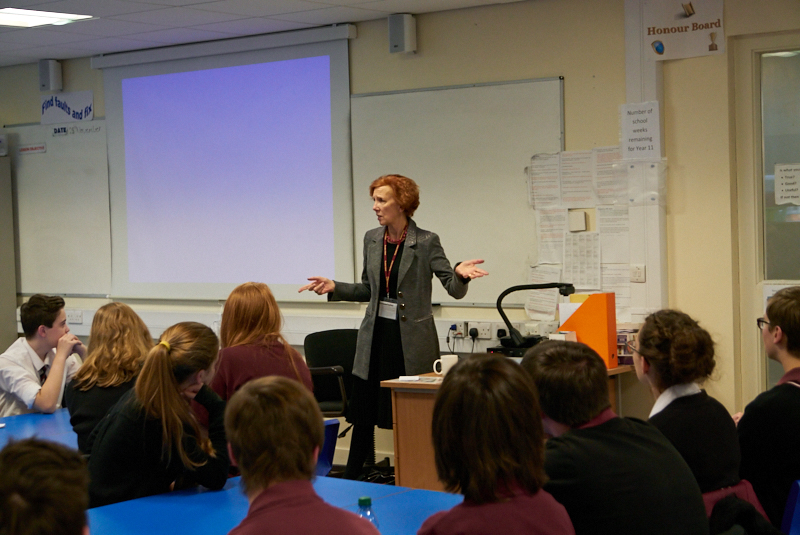 Posted: 25-11-2016


USW VISIT. &nbsp &nbsp &nbsp Home - Top
Thank you to Dr Lee Thomas, from the University of South Wales, for enlightening our students about advertising techniques and debates surrounding the subject. Very interesting.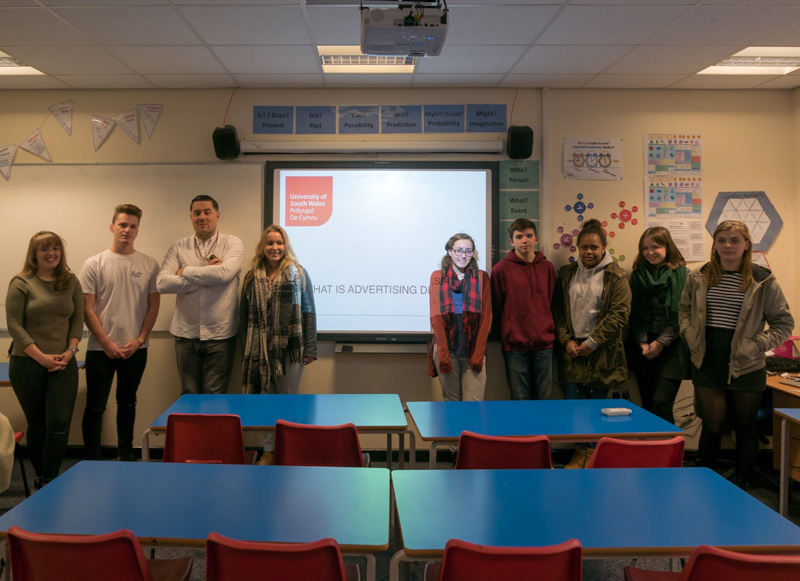 Posted: 25-11-2016


RES SECUNDAE WYEDEAN! &nbsp &nbsp &nbsp Home - Top
Huge thanks to Lucy and Gwenda in how they have established this – Classics for All have already indicated they would look to extend the funding and this gets a mention as a "WWW" in the CP report.

http://www.bristol.ac.uk/classics/hub/news/2016/classics-is-thriving-at-wyedean-school.html

Res secundae Wyedean!

Posted: 24-11-2016


ADMISSIONS POLICY &nbsp &nbsp &nbsp Home - Top
All Academies, Voluntary Aided, Foundation, Trust or Free schools are their own admission authority and therefore are responsible for determining their admission policy for entry to the school. Every 7 years the school must complete a full consultation ensuring that all interested parties have an opportunity to feedback any issues/concerns regarding the admission arrangements.

Our current admission policy's for 2016/2017 can be found Here.
Our proposed admission policy for 2018/2019 can be found Here.
*please note: There are no changes between our 2016, 2017 and proposed 2018 policies.

If you have any feedback or comments regarding the proposed arrangements please email mainoffice@wyedean.gloucs.sch.uk by Saturday 31st Dec. 2016.