Ambassadors
Cyber Ambassadors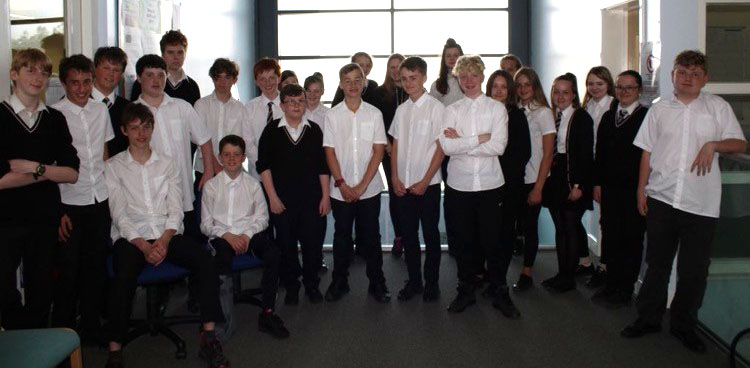 A team of 30 Cyber ambassadors have been established at Wyedean School to help encourage and deliver Cyber enrichment workshops both in-house and across our feeder Primary schools. We are very excited about the scope of this project. Here are some of the Ambassador aspirations:
"As a cyber ambassador I would like to give young children a wider knowledge of Cyber Security. In primary schools Cyber Technology isn't taught very much and many children don't have a clue what it is all about. My aim is to visit primary schools and teach children cyber security and get them into coding.
I also hope to extend my own understanding of cyber security. Just like most children, I didn't start learning about cyber topics, such as coding, until my first year of secondary school. However, there are so many other aspects of cyber that schools might never talk about or teach. I only started looking at these other aspects when we started this whole project with Miss Williams. Therefore I would love to be able to learn so much more about cyber security in school.
Finally, what I want to achieve is to make school fun. When parents wake their children up in the morning and tell them it is time for school, I want children to be excited, I want children to look forward to what the day might bring and hopefully as a Cyber Ambassador I can achieve this. What I would also like to happen is to apply my skills and learn about Cyber technology in other subjects."
Emily Whitehead Year 9
"Being a cyber ambassador I would love in the future to be given the opportunity to spread the knowledge/skills I have to other students. During this year me and my partner have been very lucky as we have been given an opportunity to create an interest in computer science. By
doing this it means more aspiring computer scientists, which is what the world needs right now. Spreading this knowledge and creating this interest is a very crucial and important job. We will carry this out by visiting several primary schools throughout the area, bringing the tech equipment we have, which includes the Sphero Robot and an equal amount of I-Pad's to match. These devices will create an early interest in procedural coding, which will benefit not only their interest but will open up doors to future jobs."
Joe Sinclair Year 9
"Being a Cyber Ambassador, I would like to gain the knowledge about computing, b
ecause it's a challenge when using technology as some aspects are difficult. I love to conquer all challenges!
I would also like to broaden younger student's interests in computing, because this can encourage students to get involved with technology. Getting primary schools involved in different activities will help students understand and hopefully encourage more students to take Computer Science as a GCSE choice. I want a future in Cyber Security"
Alesha Kerton Yr 9
"This year I aim to gain a more in-depth knowledge of Computer Science. The field, which I would really like to explore, is Cyber Security and Cyber forensics. By being a Cyber Ambassador I hope to bring my learning to life and link with industries".
Aaron Pine Smith Yr 12
"I want to gain a higher level of understand of Cyber Security and to be a part of something bigger than just myself, benefiting the whole government. As a Cyber Ambassador I would like to engage younger students into the in-depth advances of computer internals as well as the incredible length and uses of Cryptography. I hope to inspire the next generation of people like me!"
Matt Grittiths Yr 12